The three significant cities of Agra, Mathura, and Fatehpur Sikri in North India are home to some of the country's most iconic and breathtaking monuments. Taking our Agra Mathura Fatehpur Sikri Tour Packages will allow you to explore these cities' rich histories and discover the wealth of architectural gems that have been preserved here for centuries.
We at "Holidays DNA" at www.mathuravrindavantourism.co.in provide Agra Mathura Fatehpur Sikri Tour Packages to enthrall history lovers of all ages. From Mughal palaces, temples, and forts at Agra to ancient sites at Mathura and stunning Islamic architecture in Fatehpur Sikri, you can explore the best of all three cities.
Our "Agra Mathura Fatehpur Sikri Tour Packages" include hotel accommodations, transportation, meals, sightseeing tours, and cultural experiences. In addition, we offer Agra Mathura Fatehpur Sikri Tour Packages from cities such as Delhi, Mumbai, Bangalore, Hyderabad, Chennai, etc.
Popular Sightseeing Places in Fatehpur Sikri that can be visited with this package
1. Diwan-i-Aam
Diwan-i-Aam is the Hall of Public Audience located in the complex of Fatehpur Sikri Fort, where Emperor Akabr held public meetings. The mesmerizing architecture of the hall will enthrall you. Constructed around 1580 AD, the original red sandstone building has a white marble throne pavilion.
You can admire the gold ceilings and columns with amazing stucco work. There is a separate space designed for the ladies and a large courtyard. Archaeology lovers and history enthusiasts will be mesmerized by the intricate decorations on the pillars and walls.
Diwan-i-Khas, or the Hall of Private Audience, was where the king met with the state head and high-ranking officials. It was here that the precious gems and jewels of the royal household were safeguarded. This magnificent structure is a part of the grand Fatehpur Sikri Fort.
It's a rectangular two-storey-high building with a flat roof. One of its distinguishing features is the presence of four chhatris on four corners of the roof. You will be mesmerized by the floral and geometric designs carved into the stone.
Commissioned by Akbar, the Panch Mahal or 'five-level palace' was the recreational place of the Mughals. Several artists and performers came here to showcase their talents. The red sandstone-pillared pavilion served as a summer retreat and an entertainment center.
Resembling a Buddhist temple, it has an asymmetrical look. It has four floors in decreasing size, and the 84 pillars on the ground floor support the entire structure. You can also view a square water tank, Anoop Talao, which once served as a venue for musical performances.
One of the most impressive structures in Fatehpur Sikri, Mariam-uz-Zamani Palace, is the mausoleum of Akbar's favorite wife, Mariam-uz-Zamani or Jodha Bai. Also known as Jodha Bai Palace, it was home to Akbar's Rajput queens and the members of Harem.
Architecture enthusiasts will admire the blend of traditional Islamic designs and beautiful Hindu motifs like swans, ghanta mala, parrots, and elephants. Surrounded by landscaped gardens, you will be captivated by its elaborate and indulgent interiors and exteriors. You can also perceive the paintings of Lord Krishna inside the palace.
Buland Darwaza, or the 'Door of Victory,' is one of the most popular structures of Mughal architecture in India. Also known as the 'Gate of Magnificence,' it has a height of 54 m. One of the world's largest gateways, it is a 15-story grand entrance built in Persian and Mughal architectural styles.
Made of red and buff sandstone, it has white-and-black marble inlay work and intricate carvings. On its central face, there are inscriptions highlighting Akbar's religious tolerance and open-mindedness. You have to climb 42 steps to reach this semi-octagonal structure towering above a mosque courtyard.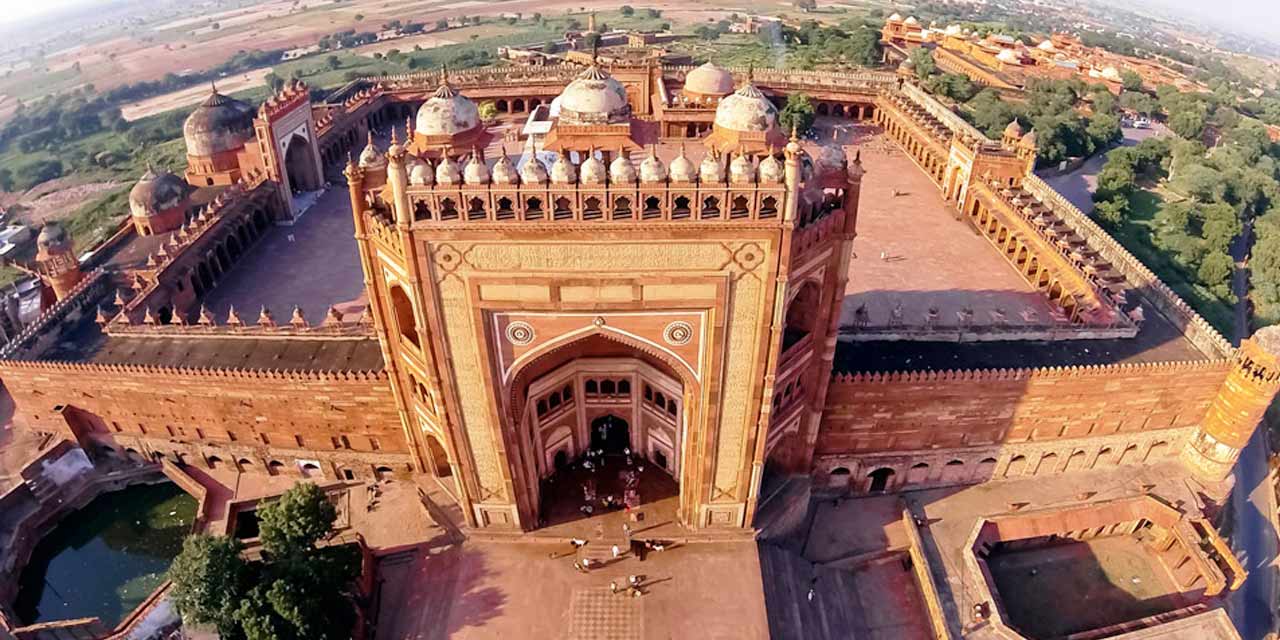 Fatehpur Sikri, founded by Akbar, is a small town known for its bright red sandstone buildings and structures. It was the capital of the Mughal Empire for a period of 15 years. Constructed in 1571, it is a fortified city and UNESCO World Heritage Site.
You can witness the Indo-Islamic architectural styles through various attractions like Diwan-i-Aam, Diwan-i-Khas, Jodha Bai Palace, Tomb of Salim Chisti, Panch Mahal, Jama Masjid, and Buland Darwaza. During sunset and sunrise, the turrets and the domes create surreal silhouettes against the copper-red sky, making it a paradise for photography enthusiasts.
Popular Sightseeing Places in Mathura that can be visited with this package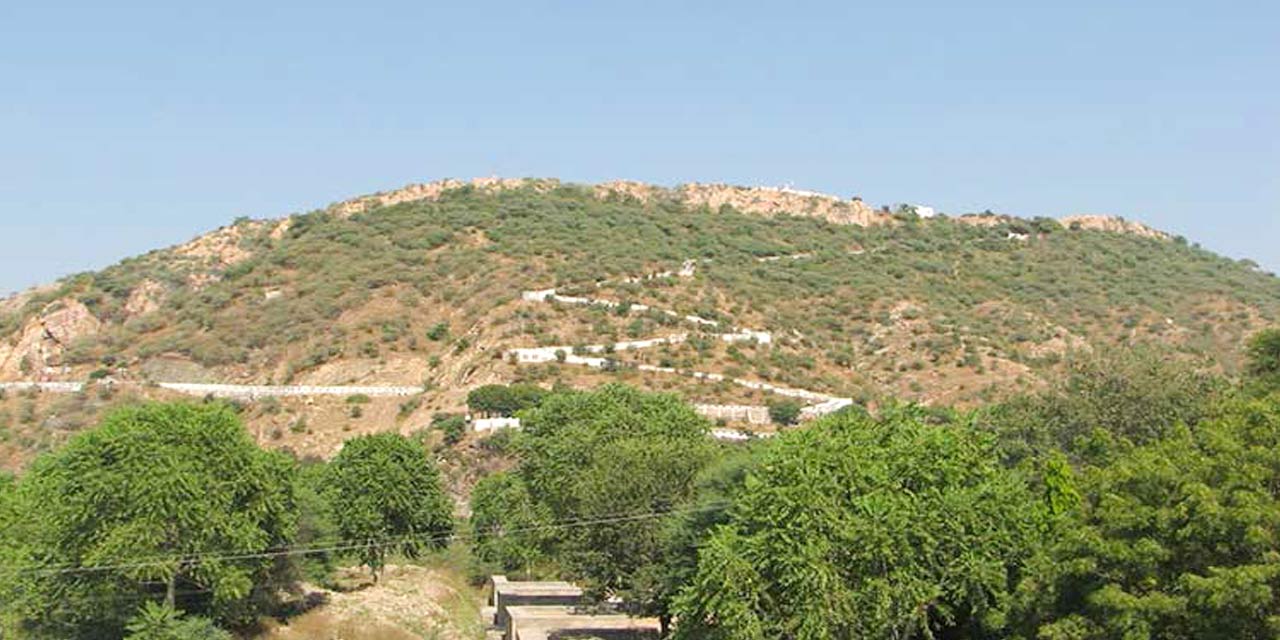 Also called Giriraj, Govardhan Hill is a revered Hindu site. It is famous for its connection to Lord Krishna's childhood. Legend has it that Lord Krishna held the Govardhan Parvat on his little finger for seven days to save Braj from torrential rains and fierce storms. Here, Krishna Janmashtami and Guru Purnima are celebrated with great fervor.
It is believed that by completing a parikrama around the hill, your wishes will be fulfilled. On the hill, you can witness the Krishna statue and also visit the Radha Kund Temple and Sri Chaitanya Temple.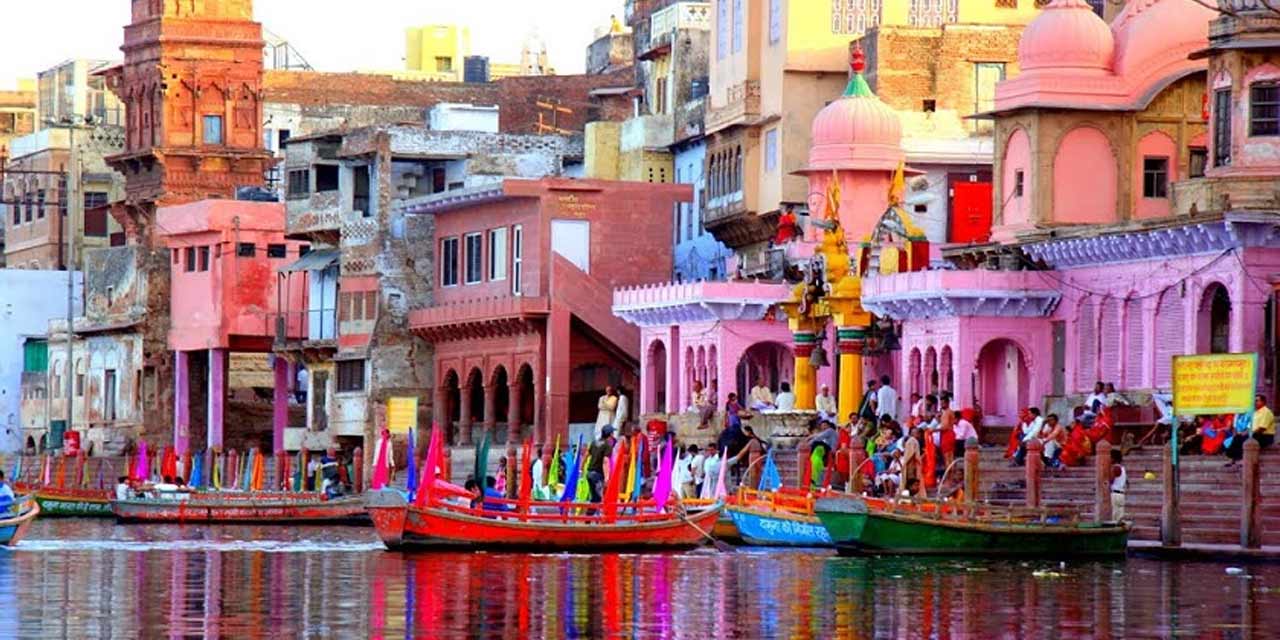 Vishram Ghat is a sacred bathing ghat on the Yamuna River bank. After defeating his wicked uncle, Kansa, Lord Krishna took some rest at this spot. The traditional parikrama starts and ends at Vishram Ghat. Lined with elegant temples, it is a must-visit tourist attraction in Mathura.
You can witness the incredible evening aarti held on the ghat. The sparkling lamps on the calm waters look spectacular. Rituals like Pind Pradan and Bhai Dooj are also performed here. You can take a boat ride and immerse yourself in the tranquility.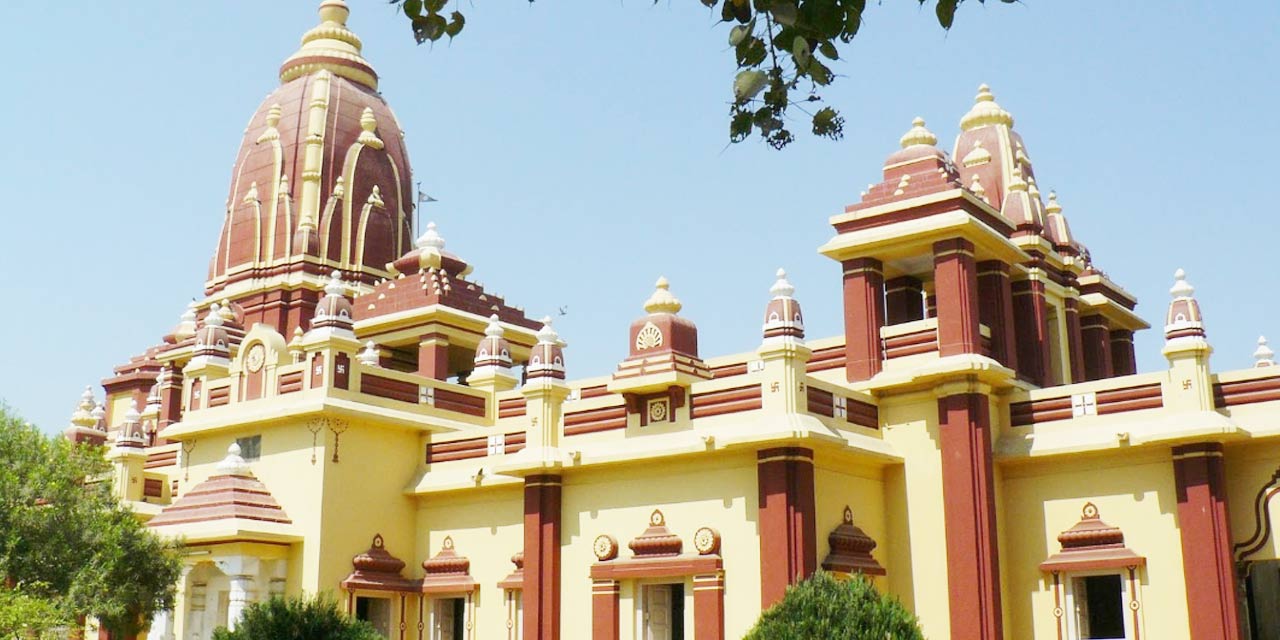 You can visit Birla mandir for its peaceful ambiance. Dedicated to Lord Lakshmi Narayan, this temple is known for its grand architecture and design. The large red sandstone building reflects beautiful craftsmanship. Also known as Gita Mandir, its towering Gita Stambh has inscriptions of 18 chapters of the Bhagavad Gita.
You can witness exquisite paintings of the deities on the marble walls. The temple is beautifully adorned during festivals like Holi and Janmashtami. Inside the temple, you can witness a statue of Garuda with folded hands, Lord Krishna's chariot, and a small Hanuman Temple.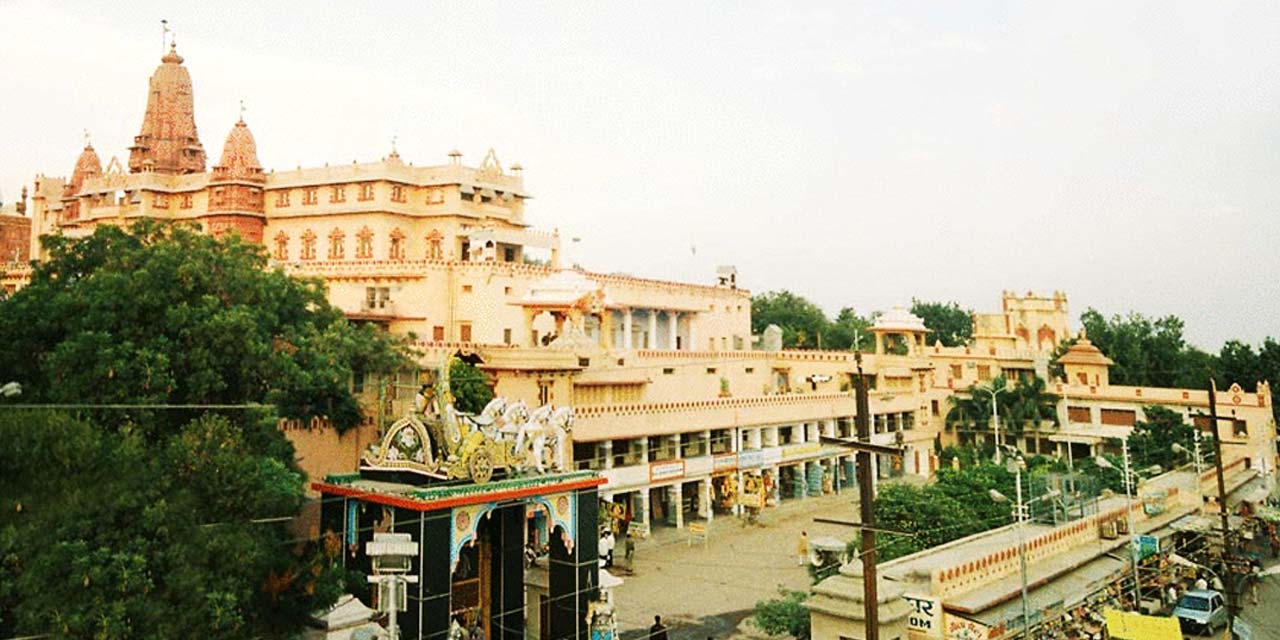 Shri Krishna Janmasthan is assumed to be Lord Krishna's birthplace. Constructed around the prison cell where his parents were imprisoned, it is of great religious significance to the Hindus. Over the years, it has undergone many changes, and the present-day structure reflects beautiful Hindu architecture.
Inside the complex, you can come across the Keshavdeva Temple, Garbha Griha, and Bhagavata Bhavan. At the temple entrance, there is the Ma Yogmaya Temple. You can witness the daily poojas and aarti, and also participate in the grand celebrations of festivals like Janmashtami, Holi, and Diwali.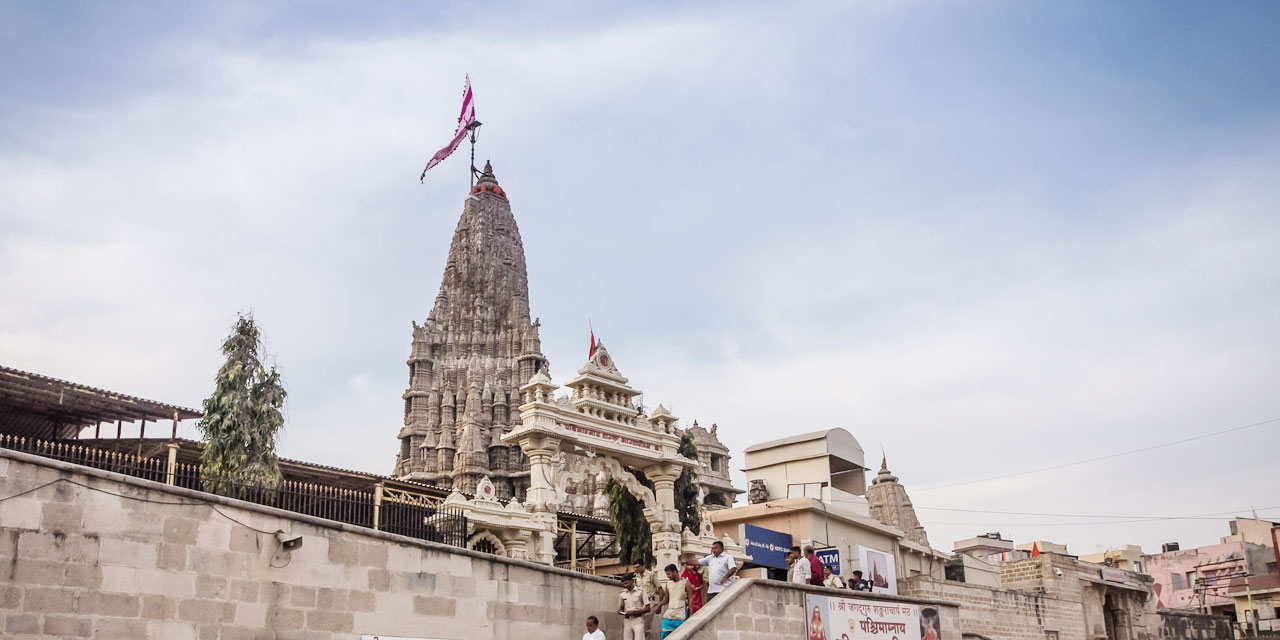 One of the oldest and largest Hindu shrines of Mathura, the Dwarkadhish Temple was built by Seth Gokul Das Parikh. This multistoried temple with a courtyard and colorful interiors is constructed using sand and limestone. You can admire the spectacular Rajasthani architecture with intricate carvings and paintings on the walls and ceiling.
Lord Dwarkanath, the presiding deity, is a 2.25-ft black marble idol with four hands, each carrying a mace, a Sudarshan Chakra, a conch, and a lotus flower. You can also view the white marble idol of Radharani.
Popular Sightseeing Places in Agra that can be visited with this package
Taj Mahal, one of the world's seven wonders, was built by Shah Jahan in loving memory of his wife, Mumtaz Mahal. Situated on the banks of River Yamuna, it is a 17th-century ivory-white marble mausoleum that also houses Shah Jahan's tomb.
At the entrance, you can enjoy the beautiful water channels and fountains. The enthralling garden, extending from the entrance to the base of the Taj Mahal, is designed in the Persian-Timurid style. You can admire the ethereal sunrise and sunset views from this iconic location.
Agra Fort is an impregnable historical fortress built by Emperor Akbar in 1573. Also known by the names Lal Qila, Fort Rogue, and Qila-i-Akbari, the fort is a UNESCO World Heritage Site. This massive red sandstone and marble structure is the epitome of Mughal art and architecture.
Chief attractions here include the Sheesh Mahal, Jahangiri Mahal, Moti Mahal, Nagina Masjid, Moti Masjid, Musamman Burj, Diwan-i-Aam, and Diwan-i-Khas. You can capture beautiful views of the Taj Mahal and Yamuna River from the colossal circular bastions.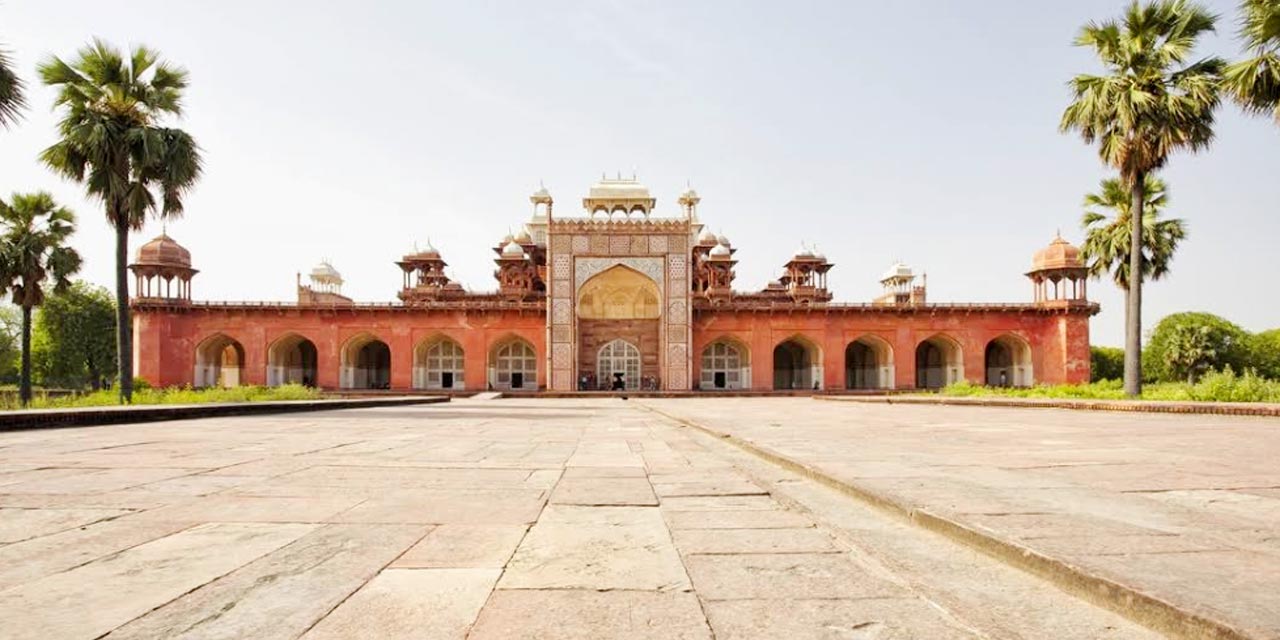 Jahangir built the Tomb of Akbar for his father, Akbar. Constructed using white marble and deep red sandstone, a beautiful garden and walkways surround it. Architecture enthusiasts will admire the blend of Gothic Mughal style and Hindu Rajputana design.
You can admire the calligraphy, floral patterns, and richly decorated inlaid panels adorning the tomb. The real tomb is located in the basement, while a pyramidal-shaped false tomb with a marble pavilion can be viewed on the fourth story of the structure.
Jama Masjid is one of the largest mosques in the country. Its majestic façade resembles that of the Taj Mahal and is made up of red sandstone and white marble. You can admire the splendid Mughal architecture with scriptures in Persian style carved on the interior walls. The inlaid panels of work are also a visual treat.
Inside the complex, you can view the Tomb of Salim Chisti and a Madrasa, where children are taught Islamic culture. Devotees throng the mosque on Fridays to participate in the special prayers.