The sacred cities of Mathura and Vrindavan are among the most important pilgrimages and tourist destinations in India. Located in the Northern state of Uttar Pradesh, these cities are perfect for spiritual seekers and heritage lovers. Book a 1 day Mathura Vrindavan tour package to explore the temple cities leisurely.
The birthplace of Lord Krishna, Mathura is home to a number of temples and shrines dedicated to him. The city is well known for its architecture and sweets.
Vrindavan is also closely associated with Lord Krishna. It is believed that Lord Krishna grew up in Vrindavan and like Mathura, it is also home to several temples and shrines dedicated to the lord.
There are many sightseeing spots across the two cities. Booking a 1 day Mathura Vrindavan tour package by Holidays DNA allows you to witness these cities in just a day. We offer a curated list of sightseeing places in our Mathura Vrindavan 1 day tour packages. You can customize the package according to your interests and needs.
We build our packages keeping in mind different types of travelers. Besides sightseeing, we take care of the entire planning of the trip so that you can enjoy it hassle-free. Our list of the best Mathura Vrindavan cab vendors allows you to pick the best drivers for your needs. You can enjoy yourself stress-free as the best local drivers ensure your convenience and safety throughout the trip.
Our Mathura Vrindavan 1 Day Tour Packages are suitable for those traveling with kids, senior citizens, family, friends, or even solo. You can pick the best package as per your interest or even personalize it based on your needs. The best tourist attractions in and around the holy cities can also be included with our Mathura Vrindavan tour packages with stay and hotel. Our team assists you throughout the trip ensuring you visit the popular sightseeing places in Mathura and Vrindavan.
Top Places to Visit in 1 Day Mathura Vrindavan Tour Packages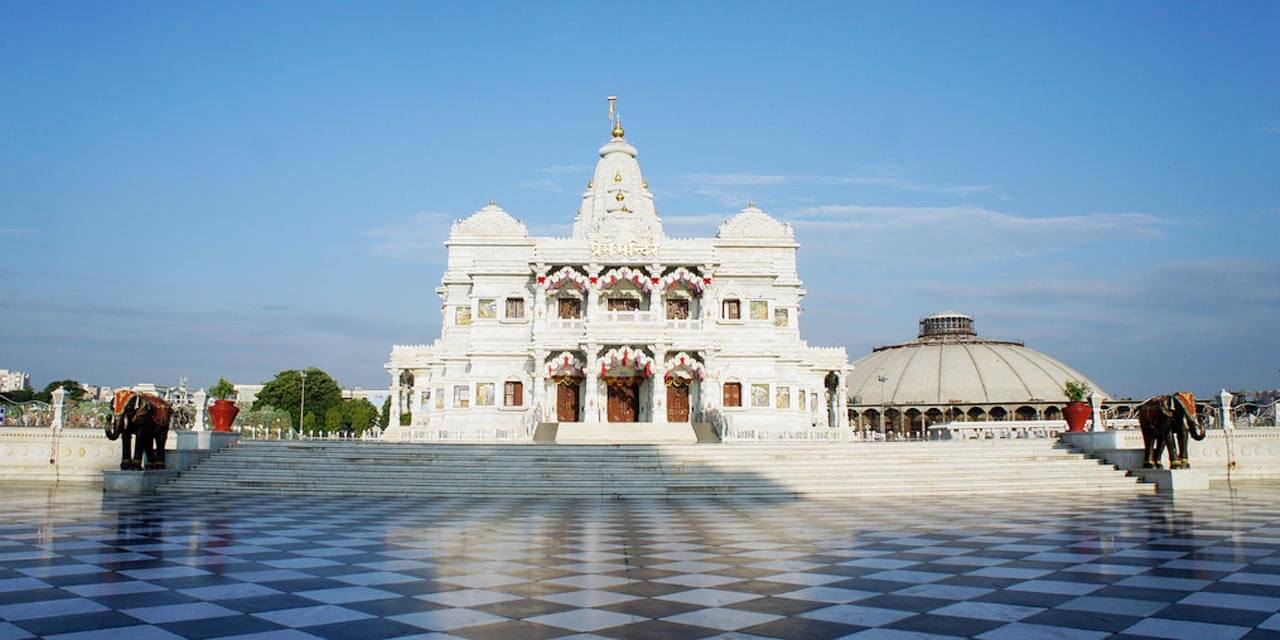 Located in Vrindavan, Prem Mandir is also known as the 'Temple of God's Love'. It was constructed in 2001. On the 1st level, you can see idols of Goddess Radha and Lord Krishna while on the 2nd there are statues of Goddess Sita and Lord Ram.
The interiors have exquisite paintings of the Leela of Shri Krishna and Rasik Saints. Made out of Italian white marble, it depicts impressive architecture. Besides piousness and solitude, other attractions are a light-and-sound show by the grand musical fountain, a vibrant garden, a souvenir shop, and a restaurant. Prayers and assemblies happen in a large pillar-less dome-shaped Satsang hall. Large crowds gather during the aarti time.
Dedicated to the combined form of Goddess Radha and Lord Krishna, Banke Bihari Temple is a century-old Hindu Temple. The spectacular Rajasthani-styled edifice is embellished with intricate stonework and arched windows. One unique feature of this temple is that bells and conches are not used for divine invocations. The peaceful chanting of 'Radha Naam' serves the purpose.
The black charming deity of Shri Krishna stands in the Tribhanga pose. You will get interrupted Darshan of the presiding deity, as the curtain is frequently drawn over the idol. Janmashtami, Holi, Dhulandi, and Jhulan Yatra are grandly celebrated here.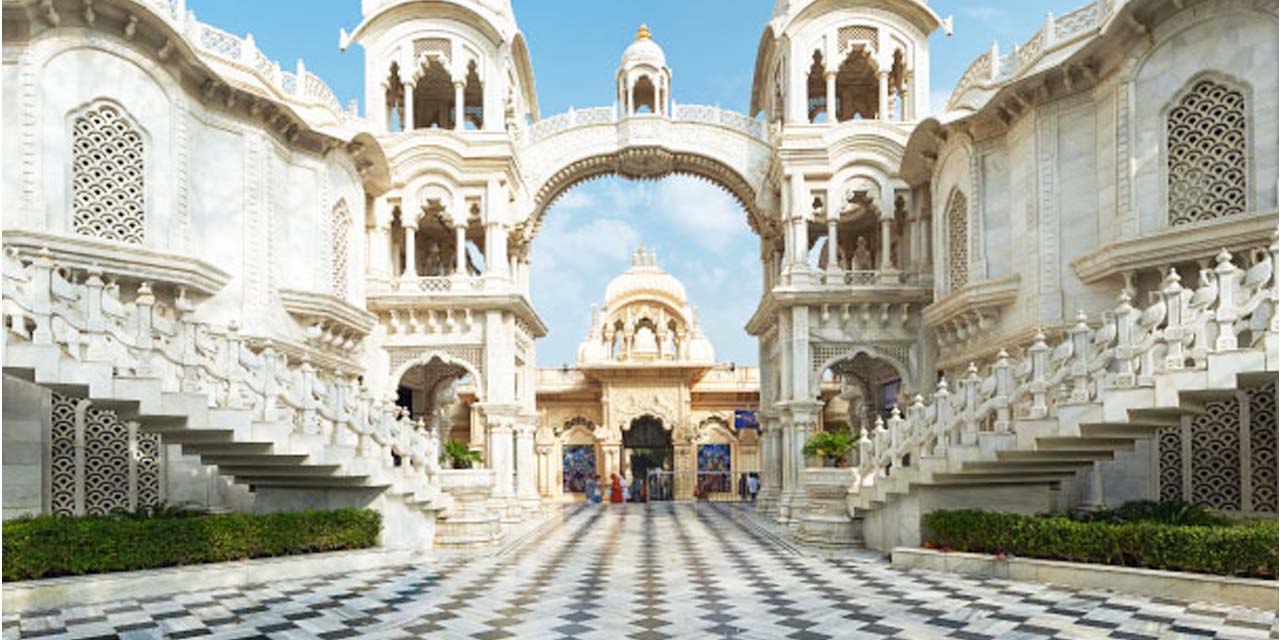 A Gaudiya Vaishnava temple, Shri Krishna Balaram ISKCON Temple is located in the Raman Reti area of Vrindavan. Dedicated to the two brothers, Lord Krishna and Lord Balaram, it boasts remarkable decorations and neatness. You will marvel at the grand white marble archway, meticulously carved walls, meandering staircases, and palace-like prayer halls.
There are three altars of Krishna-Balaram, Shri Gaur Nitai, and Shri Radha Shyamsundar. The 1st floor is painted with 108 flowers. The deities are well-ornamented. Inside the complex, you can also find a bakery, book stalls, galleries, a broadcast studio, a restaurant, and a residential Bramhachari ashram. Bhagavad Gita classes and aarti are conducted at the temple daily.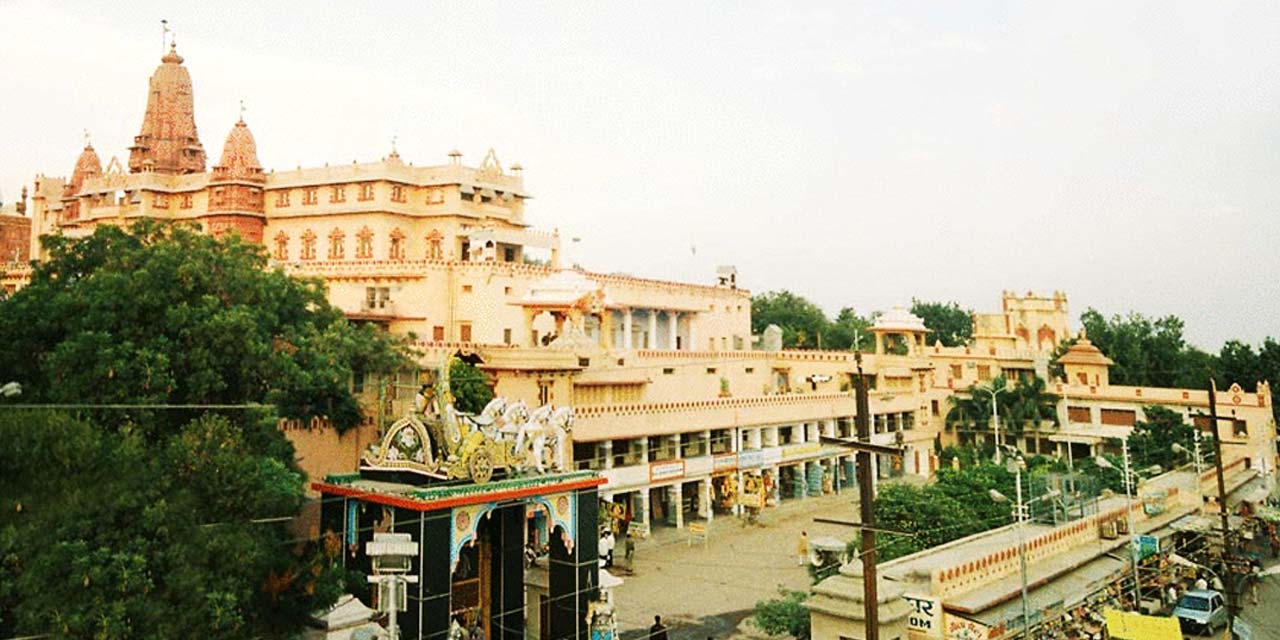 Constructed around the prison cell where Lord Krishna's parents, Vasudeva and Devaki were imprisoned, Shri Krishna Janmabhoomi is regarded as the birthplace of Lord Krishna. Earlier destroyed by many kings, it had finally been built with the help of industrialists. The celebrations of Holi, Basant Panchami, Janmashtami, and Deepavali are the perfect time to feel the spiritual ambiance of the temple.
The complex is also home to Garba Griha, Keshavadeva Temple, and Bhagavata Bhavan. Do not forget to see the Potra Kund, a large water tank believed to be the 1st bathing place of Krishna. Open space for performances, a library, shops, a guest house, and an Ayurveda Bhavan are also present inside the premises.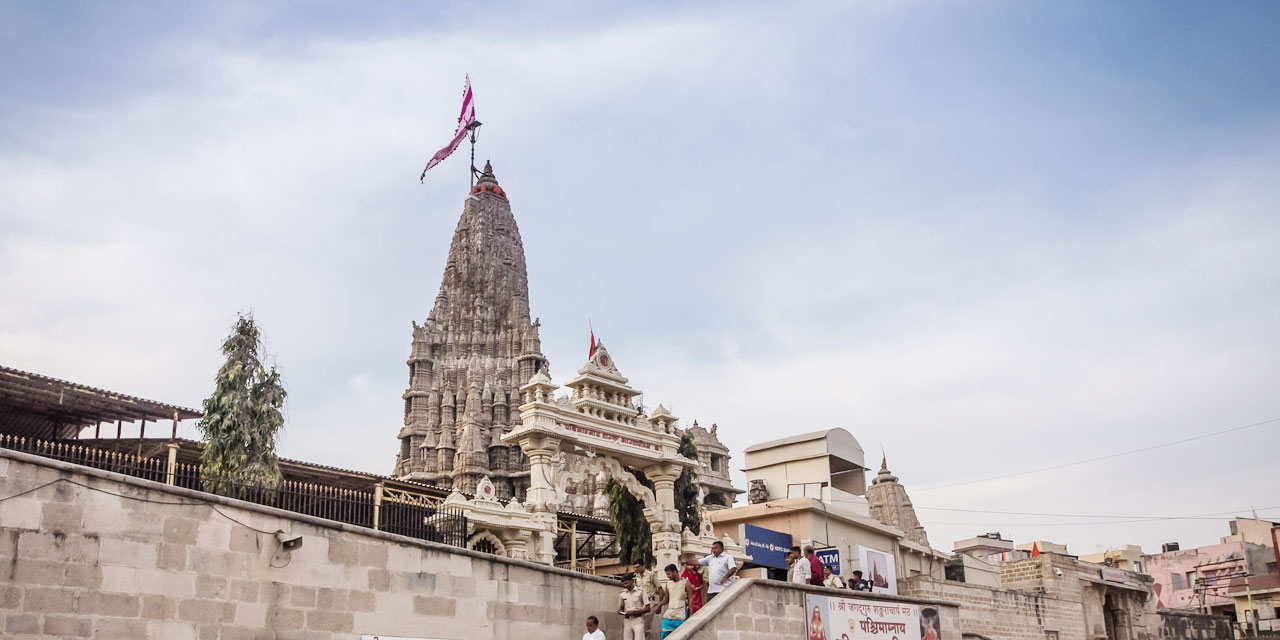 Pay respect to the black charming marble deity of Dwarkadhish in the two-storied holy Dwarkadheesh Temple. It is located near the Yamuna River ghats and is renowned for its baroque structure, Rajasthani-styled entrance, and captivating elaborate murals. You can gape at the marvelous depiction of various scenes of Lord Krishna's life on the ceilings, supported by 5 rows of richly carved pillars.
You can also observe other Hindu deities and also a highly revered small Tulsi plant. Janmashtami and Hindola Utsav are celebrated with great fervor. You cannot take any electronic gadgets inside the temple. It is a lifetime experience to watch aarti at the Vishram Ghat before the 1st and the last darshan.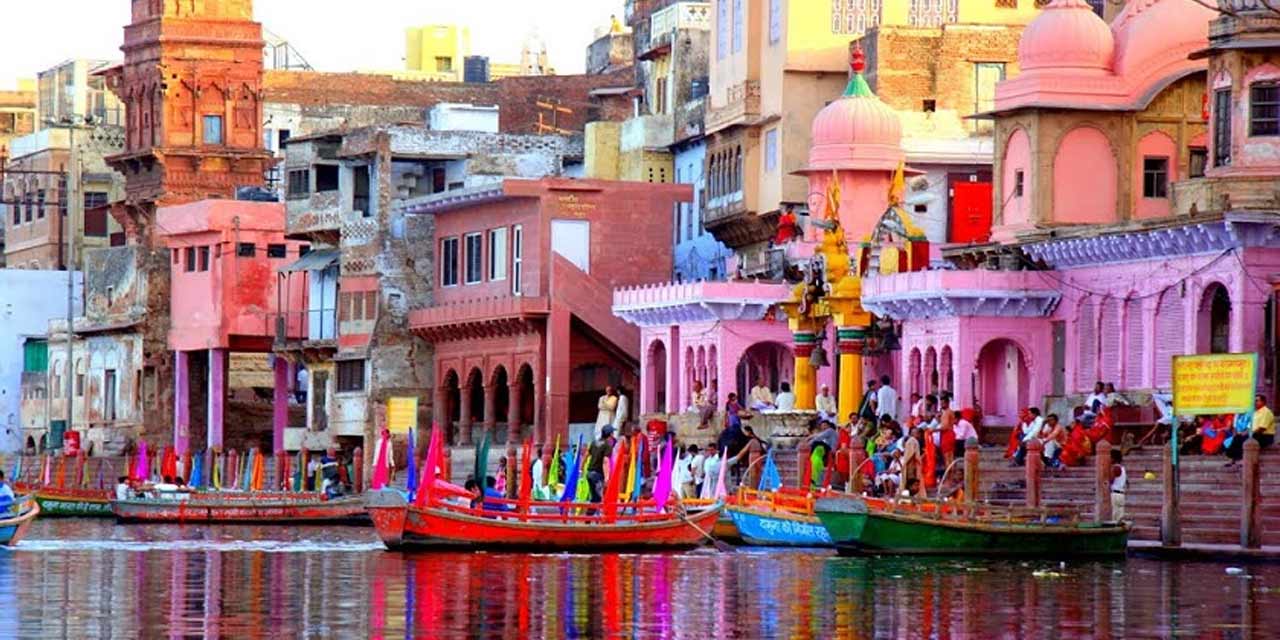 Regarded as the heart of Brij Bhoomi, Vishram Ghat is a sacred bathing ghat on the Yamuna River bank. Central to 25 other ghats, it is the main ghat of Mathura. The traditional ritual of parikrama takes off and ends here. At the time of evening aarti and prayers, you can watch floating Diyas on Paan leaves. Devotees flock to this ghat to take a holy dip on Bhai Dooj and Yam Dwitiya. You can also enjoy a boat ride on the serene Yamuna River.
---
Besides these few tourist attractions of Mathura and Vrindavan, you can spare some time to visit other places such as the Government Museum, Jama Masjid, Shri Radha Madan Mohan Ji Temple, Gita Mandir, and Sri Rangji Mandir.
Our list of top cab vendors offering Mathura Vrindavan 1 Day Tour Packages also includes a specially curated list of the best Delhi 1 Day tour packages, Kolkata 1 Day tour packages, Chennai 1 Day tour packages, Mumbai 1 Day tour packages, and Hyderabad 1 Day tour packages.
If you have a few extra days and want to explore more areas near Mathura and Vrindavan on your Mathura Vrindavan 1 Day tour packages, then you can choose an exclusive tour to places such as Agra (58 km), Fatehpur Sikri (64 km), Aligarh (66 km), and Govardhan Hill (26 km).
Excited to explore Mathura Vrindavan? Hurry connect with our team now to start planning your trip and witness the best of Mathura and Vrindavan in 1 day!