Admired as a popular tourist destination in India that is steeped in history and mythology, Mathura is counted among the holiest cities in Hinduism that is closely associated with the birth and childhood of Lord Krishna, and it is believed to be the place where he spent his early years.
Mathura's ancient lanes and streets are a treasure trove of the bygone era and culture. Taking a heritage walk through the narrow alleys of the city provides an opportunity to witness the traditional way of life and architectural gems that often go unnoticed.
Exploring the local markets, interacting with the residents, and observing their daily routines offer a glimpse into the vibrant culture and customs of the city. Book a Mathura tour package to have a great time with your near and dear ones.
It is famous for its delectable sweets and savory snacks as well. The city is known for its unique milk-based sweets like peda, rabri, and khurchan. The local markets offer a wide range of traditional snacks like kachoris, samosas, and jalebis which are a must-try for food enthusiasts.
Not to forget that Mathura is also frequented by all those who are looking to buy traditional handicrafts and religious artifacts. Visitors can explore the local markets and shops to find beautiful souvenirs, statues, paintings, and other handcrafted items that reflect the artistic traditions of Mathura. Here are the top 4 sightseeing places in Mathura that enable you to capture its real essence.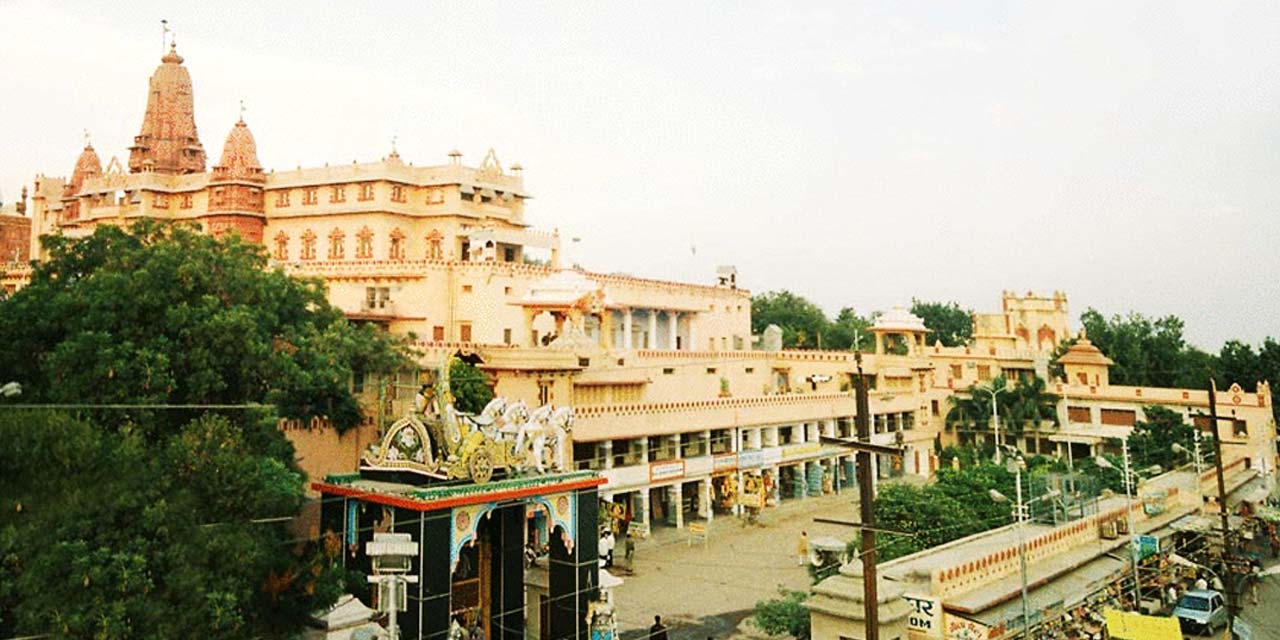 The birthplace of Lord Krishna, Shri Krishna Janmasthan Temple is a traditional Hindu temple that receives a huge influx of visitors every year – all thanks to its religious significance. It is believed to have been built around the prison where his parents, Mata Devaki and Vasudeva, were prisoned by his wicked uncle Kansa.
While the main shrine houses the presiding deity of Lord Krishna in the form of a baby, there are several other smaller temples within the complex that feature deities associated with the prime idol of the Krishna Janmasthan Temple.
Please note that the best time to visit this temple would be during the time of Janmashtami, Holi, Diwali, and Basant Panchami festivals as it is decorated with various types of lights, which make it look even more beautiful.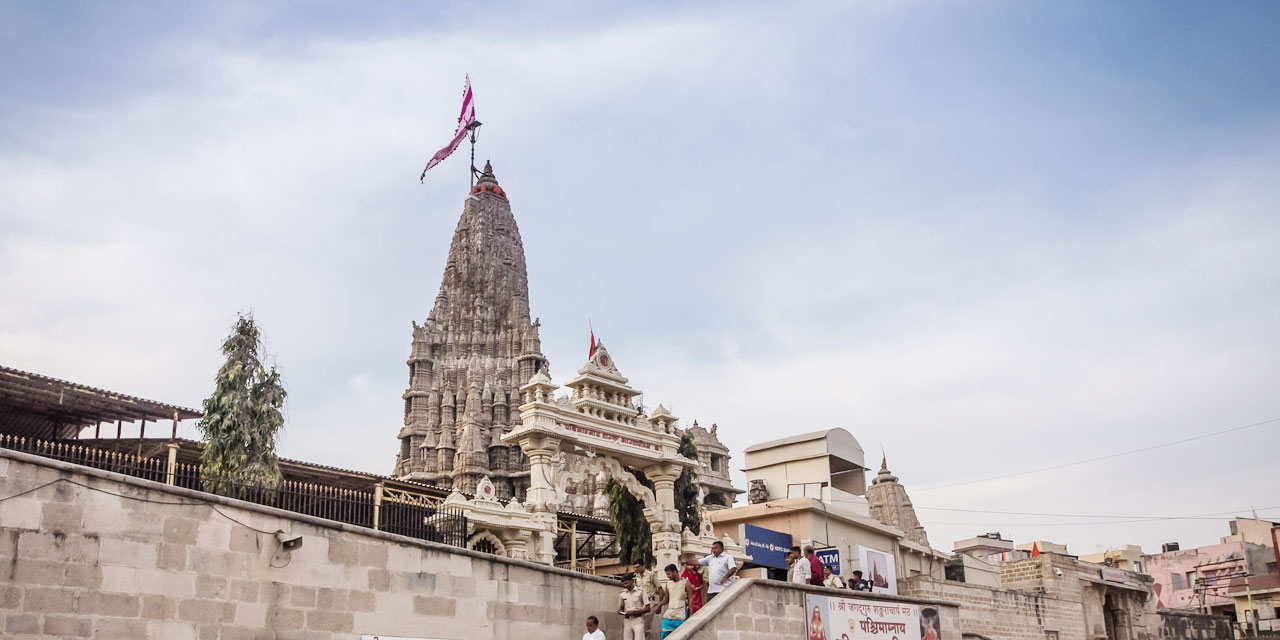 Widely renowned for its intricate architecture, the Dwarkadheesh Temple is a highly revered temple in Mathura that boasts the black marble idol of Lord Krishna without his flute and peacock feathers. Accompanying him is his Radharani which is made of white marble.
It is considered as one of the largest and oldest temples in this holy city that allows people to immerse themselves in the divine aura of Lord Krishna and experience the rich cultural and spiritual heritage associated with him.
Devotees pay heed to the Dwarkadheesh Temple to offer prayers, seek blessings, and experience a sense of spiritual bliss. Here one can also find numerous other shrines that have deities of Lord Balarama, Rukmini, and Sudama (Lord Krishna's childhood friends).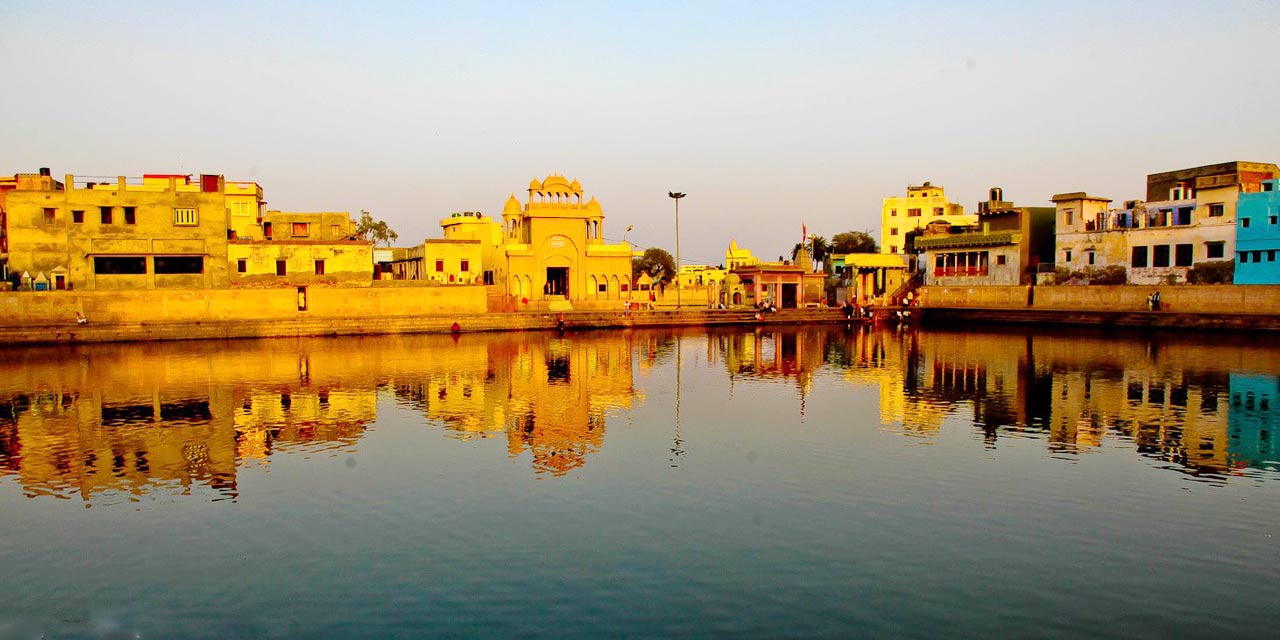 Lying in close proximity to the Govardhan Hill is the Radha Kund which is supposed to be the bathing place of Radha. According to Hindu beliefs, Radha and Krishna would often meet and perform their divine pastimes at this sacred pond. It is believed that the waters of Radha Kund possess special spiritual qualities and are considered extremely purifying.
The Radha Kund is a small, rectangular-shaped water body surrounded by steps on all four sides. The area surrounding this location is also adorned with several other smaller ponds such as Shyam Kund, Lalita Kund, and Govardhan Kund. These kunds hold their own significance and are considered sacred by devotees.
Plan a getaway to Radha Kund during the annual festival of Radha Kund Snan, also known as Kartik Snan as it is an occasion that is celebrated with great enthusiasm and devotion. During this festival, devotees gather at Radha Kund to take a holy dip and perform various rituals and ceremonies in honor of Radha and Krishna.
4. Mathura Museum
The next tourist destination that you can plan to visit with our Mathura tour packages is the Mathura Museum. It is a renowned institution that has been designed to preserve and showcase the rich cultural heritage of the region. The museum serves as a treasure trove of artifacts, sculptures, and art pieces that depict the artistic and cultural legacy of Mathura and its surrounding areas.
Established in 1874, the Mathura Museum was initially inaugurated as a small gallery by the then-British collector of the Mathura district, Sir F.S. Growse, to safeguard the numerous antiquities discovered in the region. Over the years, the museum has expanded and evolved into a comprehensive institution, housing a vast collection of artifacts dating back to the 3rd century BCE.
One of the major highlights of the Mathura Museum is its collection of ancient sculptures. These sculptures, primarily made of stone, represent various deities and mythological figures from Hindu, Buddhist, and Jain traditions.
In addition to sculptures, the Mathura Museum also houses an extensive collection of coins, which provides insights into the economic and political history of the region. The coins on display belong to different periods, including the Kushana, Indo-Greek, and Gupta empires, offering a glimpse into the ancient trade and commerce practices prevalent in the region.
---
Mathura is a lot more than its sightseeing places, offering a diverse range of experiences that cater to the interests of different travelers. Whether it's exploring the spiritual side of the city, relishing its culinary delights, immersing in its rich culture, or enjoying nature's beauty, this city offers a unique and memorable experience for all those who visit.
To make the most of your time in Mathura, we recommend you book an all-inclusive Mathura tour package with us. We at Mathura Vrindavan Tourism, a division of Holidays DNA, strive to offer a wholesome experience to our diverse clientele. Our travel packages can be altered as per your prerequisites and we also don't mind curating an itinerary based on your holiday duration. Please fill out the Contact Us form to get in touch with us.
How to Reach Mathura?
Due to its great connectivity to the rest of India via all modes of transportation, the city of Mathura can be easily accessed by people the way they want.
For instance, if you like traveling by air, you can board a flight to Indira Gandhi International Airport in Delhi first and then hire a taxi or take a bus to reach Mathura. The journey takes around 3-4 hours depending on traffic conditions.
Another option is by train. Mathura Junction is a major railway station in North India and is well-connected to various cities across the country. Several trains including express and superfast trains regularly operate to and from Mathura. Not only is it convenient for all age groups but is also a pocket-friendly way to enjoy a smooth and comfortable journey to the city.
Lastly, Mathura has a well-developed road transport system, and several buses run on this route for your ease. You can find both state-run and private buses that connect Mathura to nearby cities and towns. There are regular bus services from Delhi, Agra, and other neighboring cities to Mathura.
Once you are in Mathura, you can explore the popular sightseeing places by booking a cab from the list of top car rental companies in Mathura. Also, it is advisable to check the current transportation schedules and availability while planning your journey to Mathura, as they may be subject to change.