The twin cities in Uttar Pradesh, Mathura and Vrindavan are the two tourist destinations in India that are steeped in ancient history, spirituality, and vibrant traditions that continue to attract tourists from all corners of the globe. Plan a guided tour to Mathura and Vrindavan with our Mathura Vrindavan tour packages to capture the real essence of these cities.
Both cities are home to countless temples, each with its unique charm and significance. You can spend as much time as you want at the pilgrimage site of your choice to feel positive from the inside out. For nature lovers, the serene banks of the Yamuna River provide a tranquil retreat for people looking to disconnect themselves from the maddening crowd for some time.
The sacredness of these two places, combined with their vibrant traditions and architectural wonders, make them an alluring destination for those seeking spiritual solace and an enriching cultural experience.
Mathura and Vrindavan offer much more to their visitors than just religious significance. The cities boast a rich cultural heritage, reflected in their traditional music, dance forms, and art. Visitors can witness captivating performances of classical dance and music, and explore the local markets that offer a treasure trove of handicrafts and artifacts.
Here are the top sightseeing places in Mathura and Vrindavan that are worth every single penny: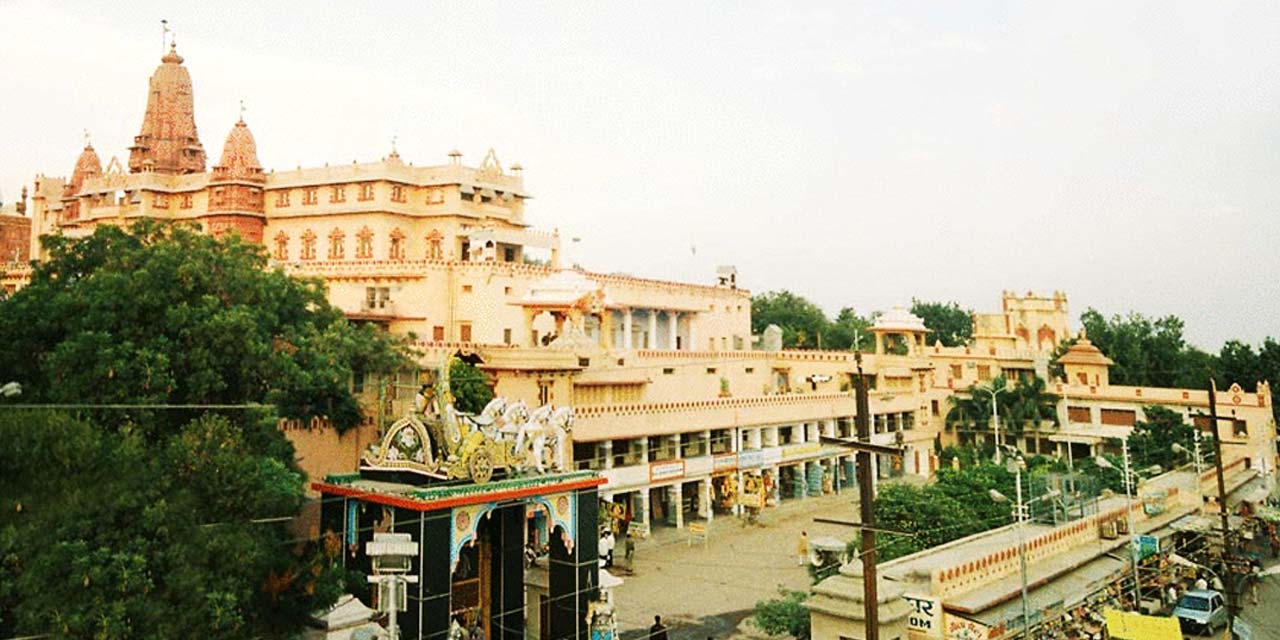 Visit the Shri Krishna Janmasthan Temple to immerse yourself in the divine ambiance. It is a Hindu temple that is considered as the birthplace of Lord Krishna and is built around the prison cell where his parents were imprisoned by his uncle Kansa.
As soon as you enter the premises of this temple, you will notice an unparalleled charm and aura that takes you to another world surrounded by positivity from all sides. Here you can also relax, unwind, and attain peace of mind by spending some time in tranquility within the complex.
Please note that the temple receives a huge crowd on festivals like Holi, Diwali, Basant Panchami, and Janmashtami. So, if you wish to avoid heavy footfall, you can plan your getaway to this pilgrimage site on other days.
The Banke Bihari Temple in Vrindavan stands as a testament to the eternal love and devotion towards Lord Krishna. It continues to be a beacon of spirituality, drawing people from different backgrounds and cultures to connect with the divine and experience the profound teachings and grace of Lord Krishna.
It is a sacred temple that features the deity of Banke Bihari enshrined in a black marble statue. Unlike other temples, the statue of Lord Krishna has its eyes covered with a curtain, revealing them only for a few minutes during the day.
Devotees flock to the temple to seek blessings, offer prayers, and participate in the mesmerizing aarti that takes place several times a day. The temple resonates with the sounds of bhajans (devotional songs) and chants, creating an atmosphere of devotion and divine bliss.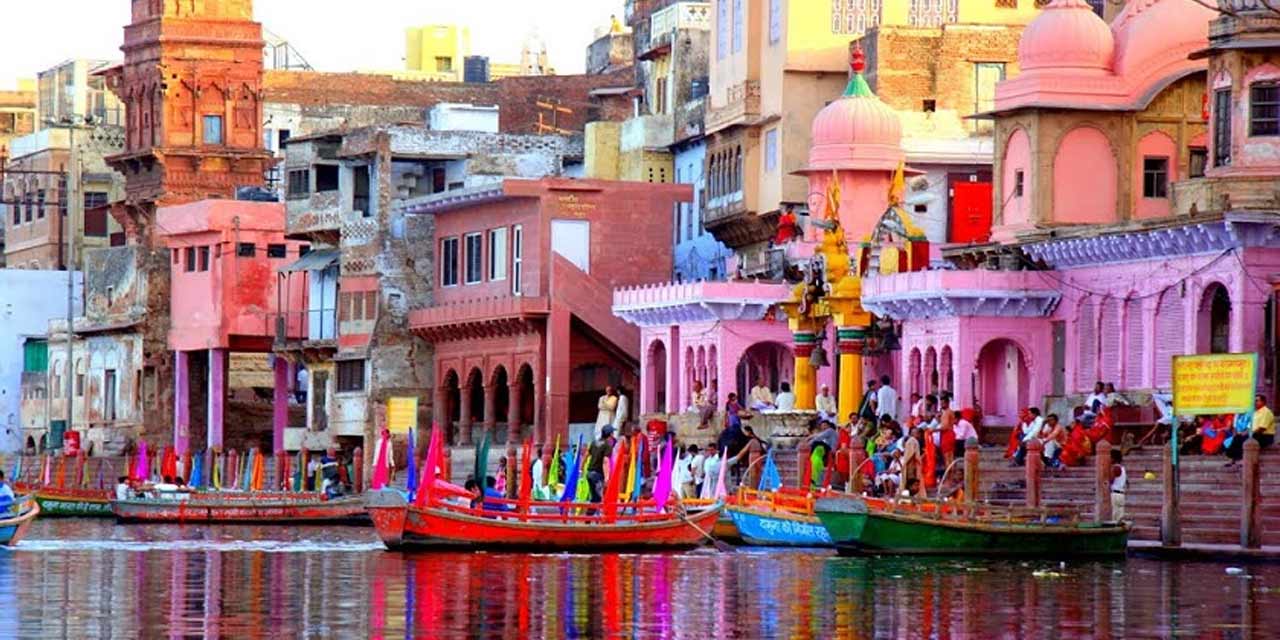 Lying 4.5 km away from Mathura Railway Station is the Vishram Ghat which draws a huge influx of visitors every year due to its religious significance. It is believed to be the place where Lord Krishna rested after defeating the demon king Kansa and hence is named as Vishram Ghat.
As the sun sets, the atmosphere at Vishram Ghat becomes ethereal. The evening aarti (ritual offering of light) performed at the ghat is a mesmerizing spectacle. Devotees and priests gather to offer prayers, light diyas, and chant hymns in praise of Lord Krishna. The ghat reverberates with the sounds of bells, conch shells, and devotional songs, creating a divine ambiance that leaves a lasting impression on the hearts of the visitors.
Here you can also enjoy a boat ride in the Yamuna River to soak in the best of its beauty. Depending on your holiday style and overall budget, you can choose from a wide variety of boats available. Also, make sure to bargain as much as you can to turn the boat ride experience into a pocket-friendly affair.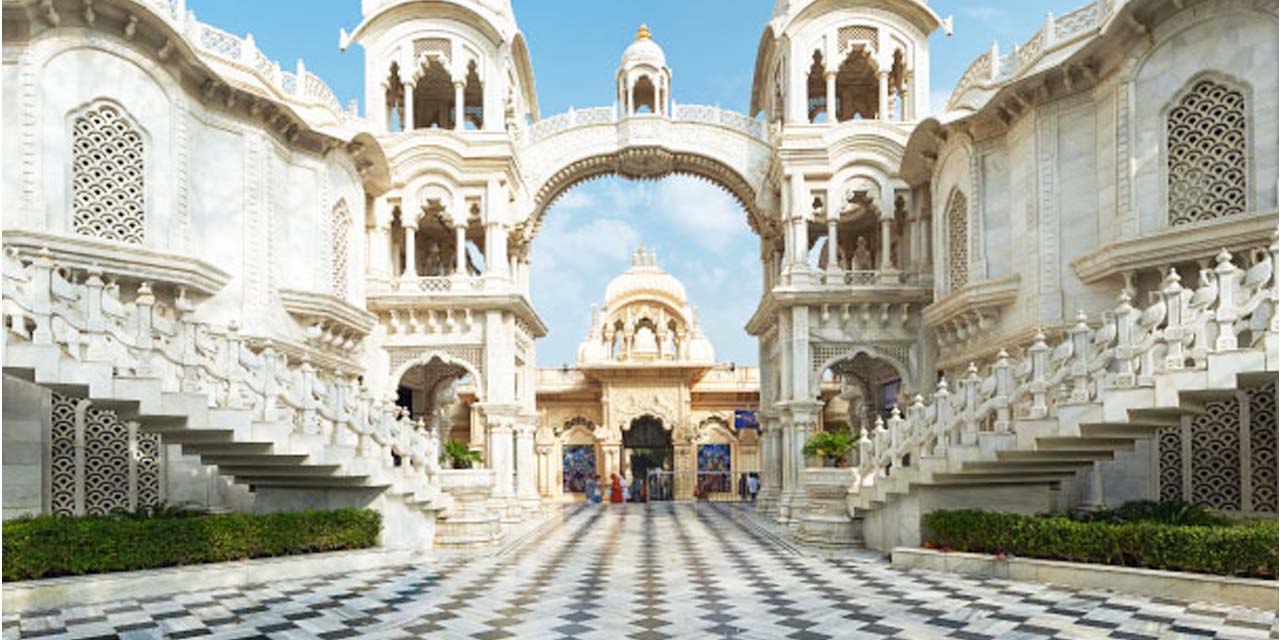 Your Mathura Vrindavan tour won't be complete without paying heed to the ISKCON Temple. It is among the prominent temples that serve as a hub for all those people who wish to deepen their understanding of Lord Krishna and engage in devotional practices. The temple complex is a vibrant and serene space that exudes a sense of divine bliss and tranquility.
Featuring the traditional Indian style of architecture characterized by ornate carvings, exquisite sculptures, and vibrant colors, the ISKCON Temple has a beautifully adorned sanctum sanctorum where the deities of Lord Krishna and his beloved consort Radha are worshipped with great reverence and devotion.
Visitors to the ISKCON Temple can participate in various spiritual activities and rituals such as the chanting of the Hare Krishna mantra, meditation, and attending the arati. The temple also hosts discourses and classes on ancient scriptures like the Bhagavad Gita and the Srimad Bhagavatam, providing spiritual guidance and nurturing a deeper understanding of the philosophy and teachings of Lord Krishna.
---
In conclusion, we can say that a journey to Mathura and Vrindavan is a pilgrimage of the soul, leaving visitors with a profound connection to Lord Krishna and a lasting impression of the divine aura that permeates these sacred lands.
You can explore the best of these cities with our Mathura Vrindavan tour packages. We at Mathura Vrindavan Tourism, a division of Holidays DNA, present the top sightseeing options along with state-of-the-art amenities to our diverse clientele. Our team of travel experts is always there to assist you. With us, you can also choose the accommodation of your choice to enjoy a peaceful sleep after a day of exploration. Please fill out the Contact Us form to learn more about us.
How to Reach Mathura and Vrindavan?
To reach Mathura and Vrindavan, you have several transportation options available depending on your starting location. Here are the common methods of transportation:
By Air: The nearest major airport is the Indira Gandhi International Airport (DEL) in Delhi, which is approximately 160 kilometers away from Mathura and Vrindavan. From the airport, you can hire a taxi or take a bus to reach Mathura and Vrindavan.
By Train: Mathura Junction is the main railway station in the region, and it is well-connected to major cities in India. Many trains run on the Delhi-Mathura route, and you can check the train schedules and book tickets online or through railway ticket counters.
By Road: Mathura and Vrindavan are connected by a network of roads, and you can reach them by bus or private vehicle. It takes around 3-4 hours from Delhi and the journey is 2 hours long from Agra.
Once you reach Mathura or Vrindavan, you can book a private taxi with an experienced chauffeur from the list of top car rental companies in Mathura and Vrindavan to cover the popular sightseeing places at your ease.