North India has some of the most spectacular and spiritual places to witness. From the holy city of Mathura and Vrindavan to the majestic Taj Mahal in Agra, there is much to explore in this region. Our Jaipur to Agra Mathura Vrindavan Tour Packages covers these incredible destinations.
We at "Holidays DNA" at www.mathuravrindavantourism.co.in take you on an exciting journey through North India's architectural wonders, sacred sites, and religious centers with Jaipur to Agra Mathura Vrindavan Tour Packages.
The tour starts from the Pink City of Rajasthan and takes you on a ride to India's most iconic landmarks in Uttar Pradesh. Our team strives to deliver the best travel experiences for our customers and ensure that each journey is unique and unforgettable.
Popular Sightseeing Places in Vrindavan that can be visited with this package
Shri Banke Bihari Mandir is a revered Hindu temple dedicated to Lord Krishna and is known for its rich history and spiritual significance. The temple attracts countless devotees and tourists. The deity of Lord Krishna in the temple is black in color, captivating visitors with its divine charm.
It has traditional Rajasthani architecture and a peaceful ambiance. You can witness mesmerizing aarti ceremonies and experience spirituality. It is recommended to visit during festivals like Holi and Janmashtami to witness vibrant celebrations and immerse in the enchanting atmosphere.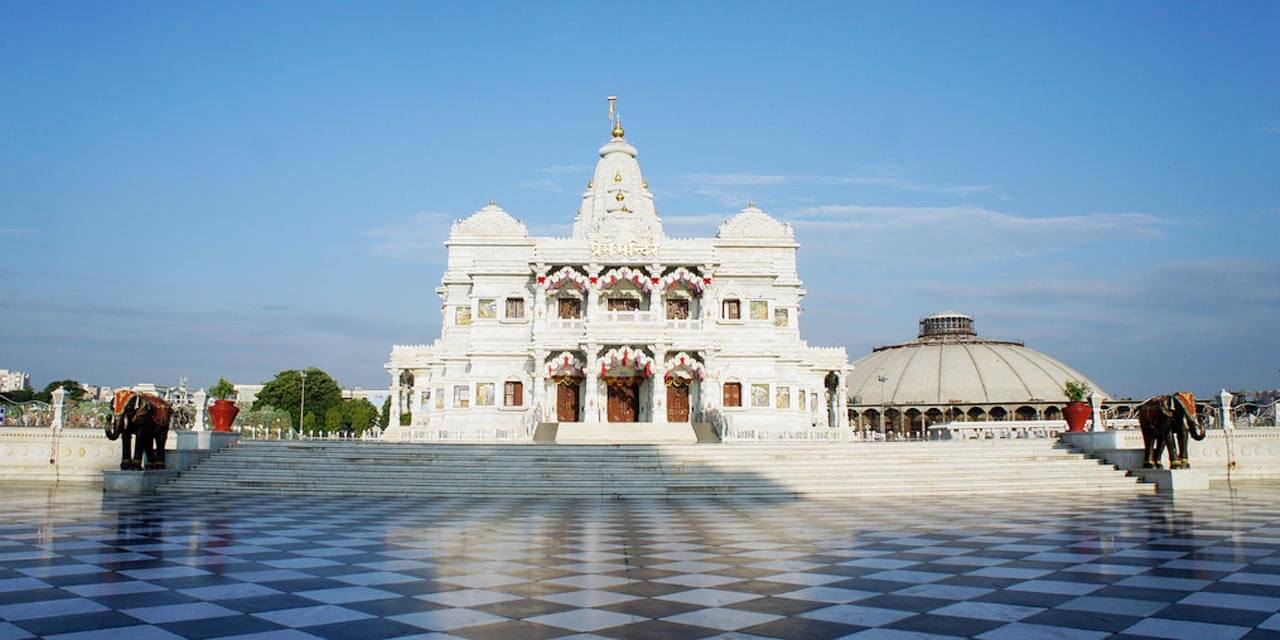 Prem Mandir stands as a marvel of architectural grandeur. The temple complex is constructed entirely of white marble, exuding a sense of purity and serenity. It has intricate carvings and details on the walls and pillars that depict the life and teachings of Lord Krishna.
The temple's main hall houses stunningly crafted idols of Radha and Krishna, adorned with precious jewels and vibrant garments. Visitors can stroll through the beautifully landscaped gardens surrounding the temple, offering breathtaking views and photo opportunities. The mesmerizing light and sound shows held in the evening add to the enchanting experience.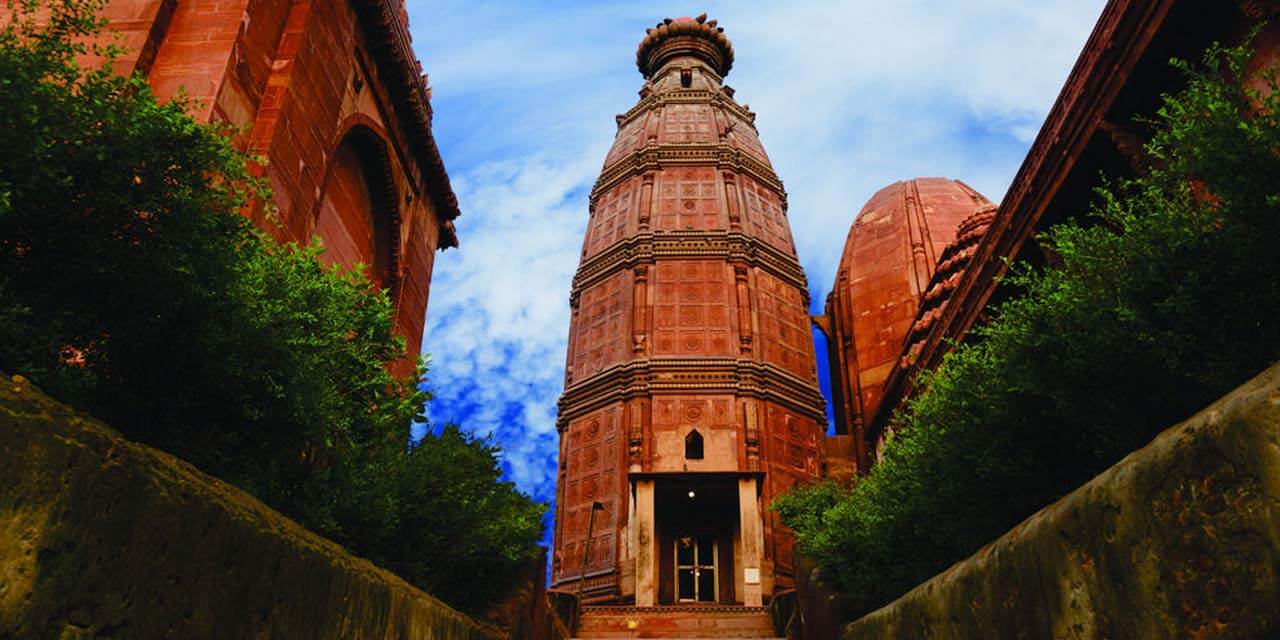 Shri Radha Madan Mohan Ji Temple is a spiritual haven for seekers and devotees. The temple serves as a reminder of the eternal love between Radha and Krishna. Its serene environment and beautiful architecture create an atmosphere conducive to meditation and introspection.
Inside the temple, devotees can witness the divine form of Lord Madan Mohan and Radha Rani, captivating visitors with their mesmerizing beauty. The temple hosts soul-stirring kirtans (devotional songs) and bhajans (hymns) that uplift the spirit and transport one into a realm of devotion.
Shri Radhavallabh Lal Ji Temple is a revered Hindu temple dedicated to Lord Krishna and his beloved Radha. It is renowned for its unique tradition of deity seva, where the deities are treated as living beings.
The presiding deity, Radhavallabh Lal ji, is a beautifully adorned black marble idol of Lord Krishna. The temple exudes an aura of divine love and devotion, with its enchanting music and soul-stirring bhajans. You can immerse in the profound devotion and experience a deep connection with Radha and Krishna.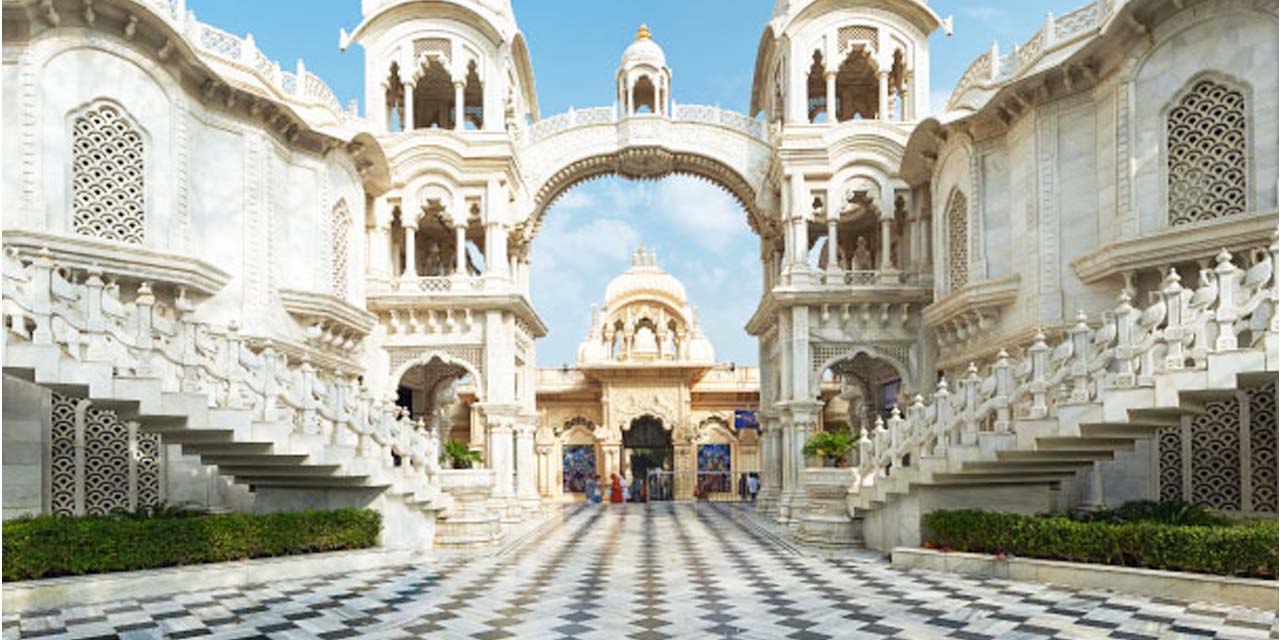 The ISKCON Temple is also referred to as Sri Sri Krishna Balaram Mandir. It is established by the International Society for Krishna Consciousness (ISKCON), showcasing breathtaking architecture and exquisite craftsmanship. It is dedicated to Lord Krishna and his brother Balarama.
The temple offers a serene environment for devotees and tourists to engage in devotional practices such as kirtans, arati ceremonies, and spiritual discourses. Visitors can explore the temple's beautiful gardens, participate in the joyful Hare Krishna mantra chanting, and relish delicious vegetarian meals at the temple's Prasadam hall.
Popular Sightseeing Places in Mathura that can be visited with this package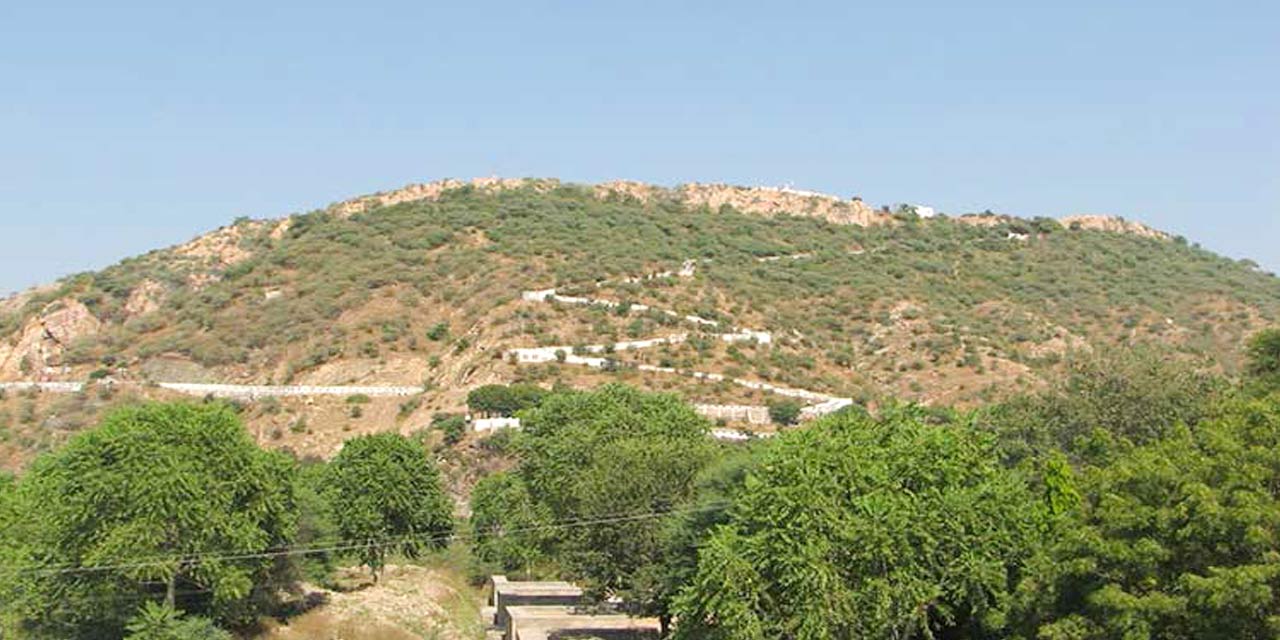 Govardhan Hill is a haven of natural beauty and tranquility. The hill, with its lush greenery and panoramic views, offers a delightful escape from the bustling city life. Nature enthusiasts can enjoy hiking and exploring the diverse flora and fauna that grace the hillside.
The surrounding landscape is dotted with picturesque villages and farmlands, providing a glimpse into rural life in India. Sunrise and sunset views from the hilltop are breathtaking. A visit here promises a rejuvenating experience amidst the pristine beauty of nature.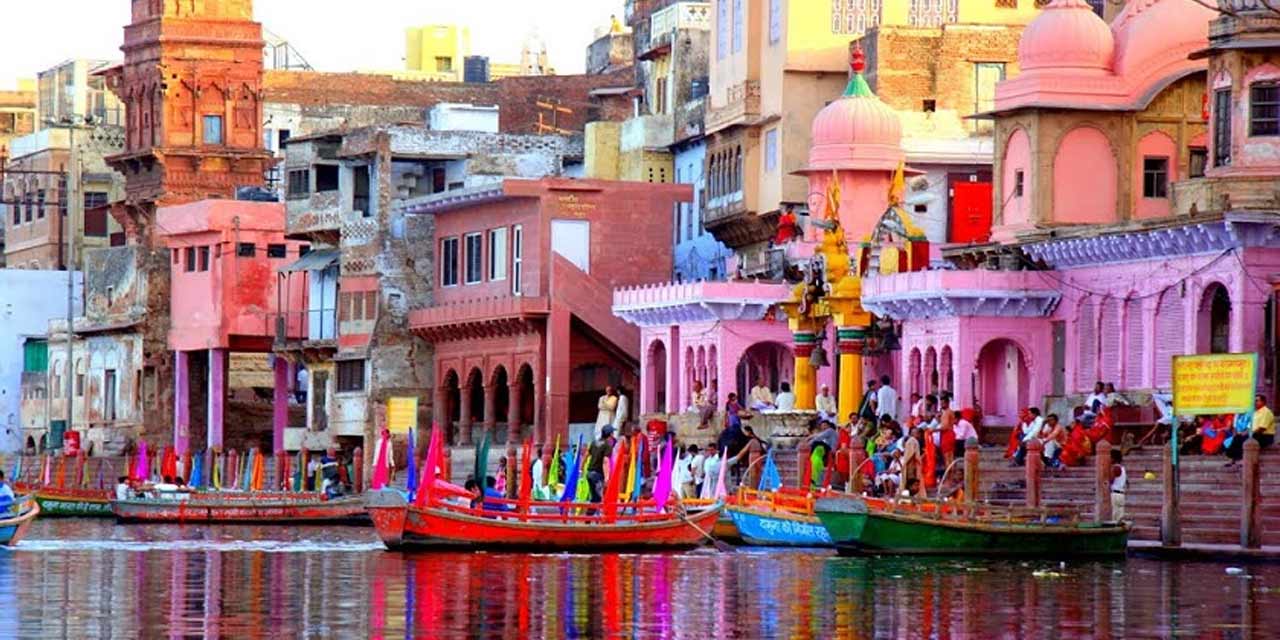 Vishram Ghat is a renowned riverfront bathing ghat on the sacred Yamuna River. It holds immense religious significance in Hindu mythology, as it is believed to be the spot where Lord Krishna rested after slaying Kansa.
The ghat attracts devotees and tourists who come to take a holy dip in the Yamuna and perform rituals. It is adorned with beautiful temples and ghats, where pilgrims offer prayers and light Diyas (oil lamps) during evening aarti ceremonies. Vishram Ghat provides a spiritual atmosphere, allowing you to immerse in the divine aura.
Shri Bhuteshwar Mahadev Temple is a revered Hindu temple dedicated to Lord Shiva. The temple holds immense religious significance as it is a Shaktipeeth. The temple is surrounded by a serene and picturesque environment, with a sacred pond nearby.
Devotees visit to seek the blessings of Lord Shiva and experience spiritual solace. The temple's tranquil ambiance, intricate architecture, and the presence of the divine deity create an aura of devotion, offering a memorable and sacred experience for tourists.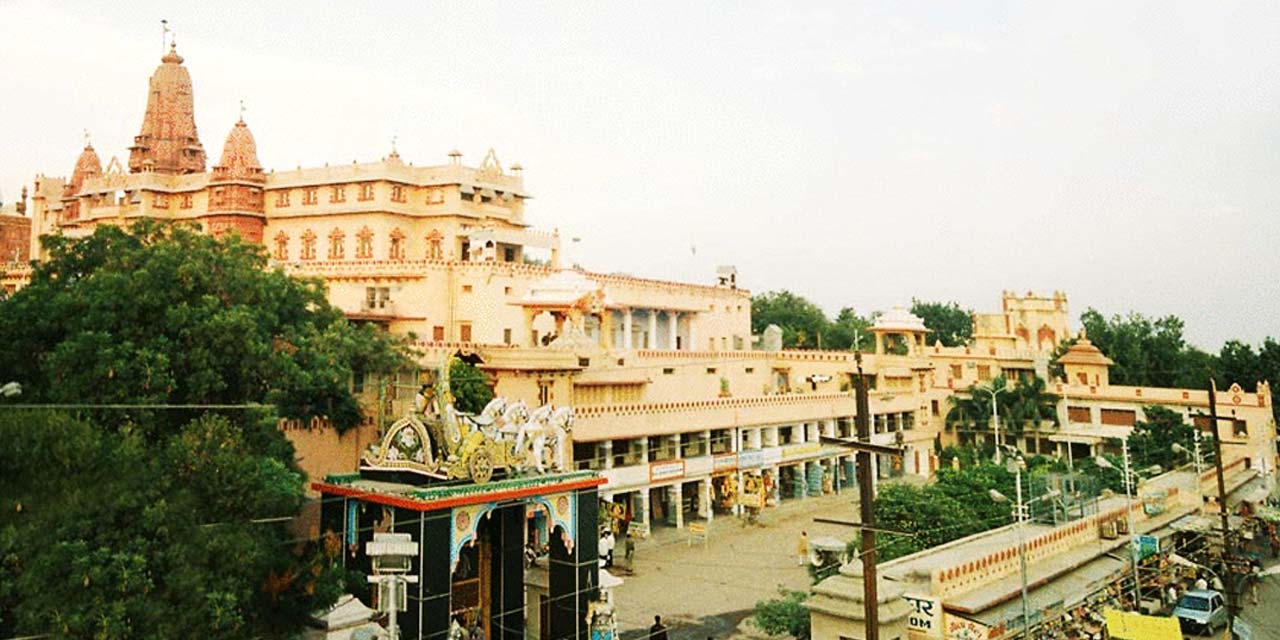 Shri Krishna Janmasthan is steeped in historical and mythological significance. It is believed to be the exact place where Lord Krishna was born. The temple complex preserves ancient architecture and echoes the stories of Krishna's divine pastimes.
You can witness the small prison cell, known as the "Krishna Janmabhoomi," where Lord Krishna is said to have been born. Exploring this sacred site offers a fascinating glimpse into the rich history of the region and the stories associated with Lord Krishna. It is a must-visit destination for tourists seeking spiritual and historical insights.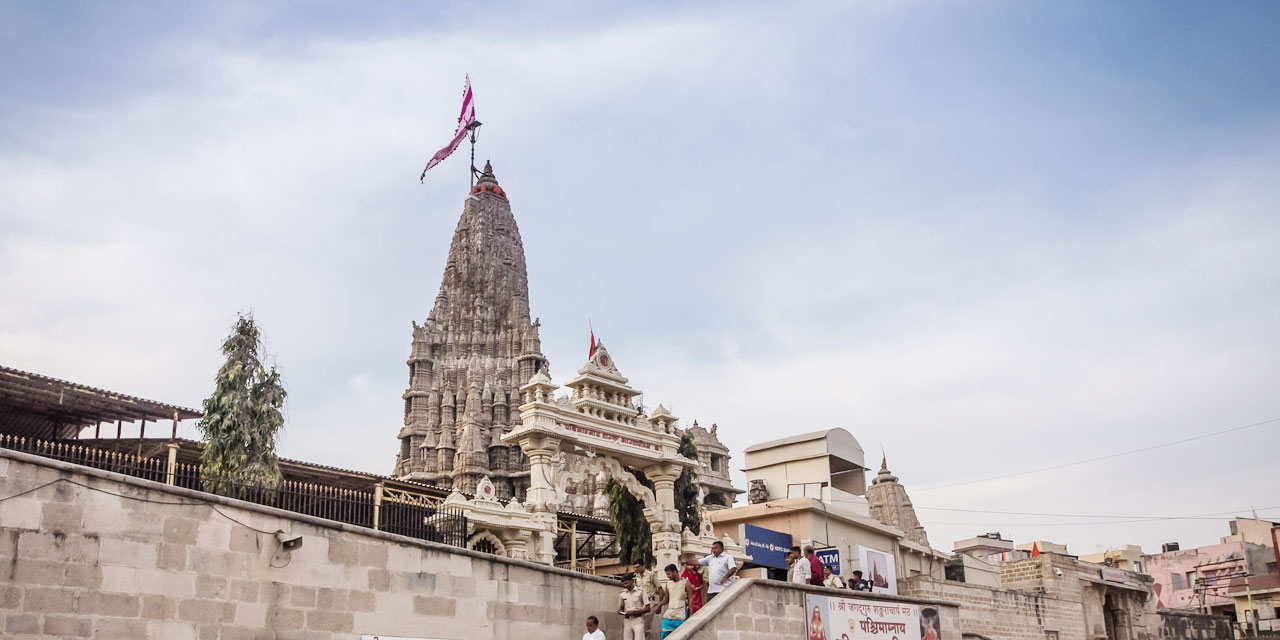 Dwarkadhish Temple is a significant Hindu temple dedicated to Lord Krishna. It is one of the most revered pilgrimage sites for devotees. The temple's architecture is awe-inspiring, with intricate carvings and ornate decorations.
It houses the idol of Lord Krishna in his Dwarkadhish form, captivating with his divine charm. The temple's vibrant ambiance, devotional hymns, and the aroma of incense create a spiritually uplifting experience. Paying a visit to Dwarkadhish Temple allows you to immerse in the devotion of Lord Krishna.
Popular Sightseeing Places in Agra that can be visited with this package
The Taj Mahal, an iconic monument in Agra, holds immense historical significance. Built between 1632 and 1653, it stands as a mausoleum commemorating the life and love of Mumtaz Mahal.
The architectural marvel showcases the pinnacle of Mughal craftsmanship and design. The site symbolizes cultural fusion through its Islamic and Indian architectural styles. You can learn about the fascinating stories and legends associated with the Taj Mahal.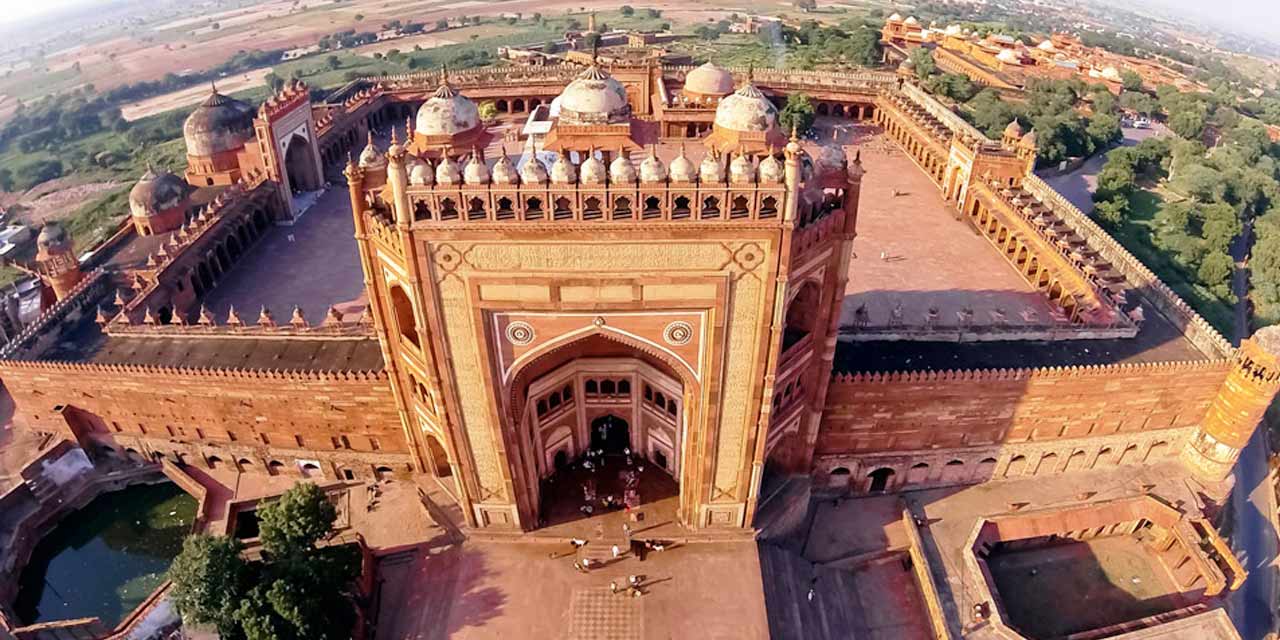 Fatehpur Sikri is a UNESCO World Heritage site near Agra. It was built in the 16th century and served as Emperor Akbar's capital. The city symbolizes his vision for religious harmony and cultural integration. The complex comprises stunning architectural marvels, including palaces, mosques, and administrative buildings.
Fatehpur Sikri reflects the multicultural influences of the Mughal Empire, blending elements of Hindu, Persian, and Islamic architecture. The site is also associated with the Sufi saint Sheikh Salim Chishti. Exploring Fatehpur Sikri offers a deep understanding of history.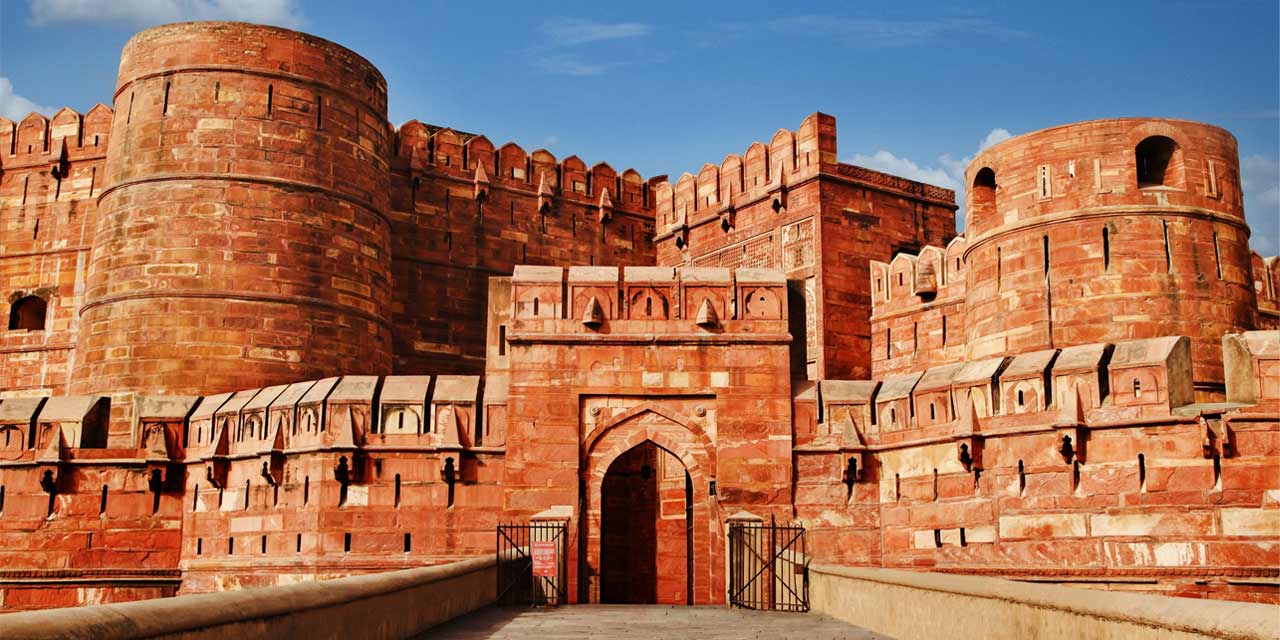 Agra Fort, a UNESCO World Heritage site, is a remarkable architectural masterpiece in Agra. The fort's imposing red sandstone walls and intricate craftsmanship captivate visitors. Its palaces and structures, such as the Jahangiri Mahal and the Musamman Burj, exhibit Mughal architectural style.
The fort's strategic location offers breathtaking views of the Taj Mahal. The intricate marble inlays, ornate columns, and stunning domes showcase the expertise of Mughal artisans. Exploring Agra Fort unveils architectural wonders, showcasing the grandeur of the Mughal Empire.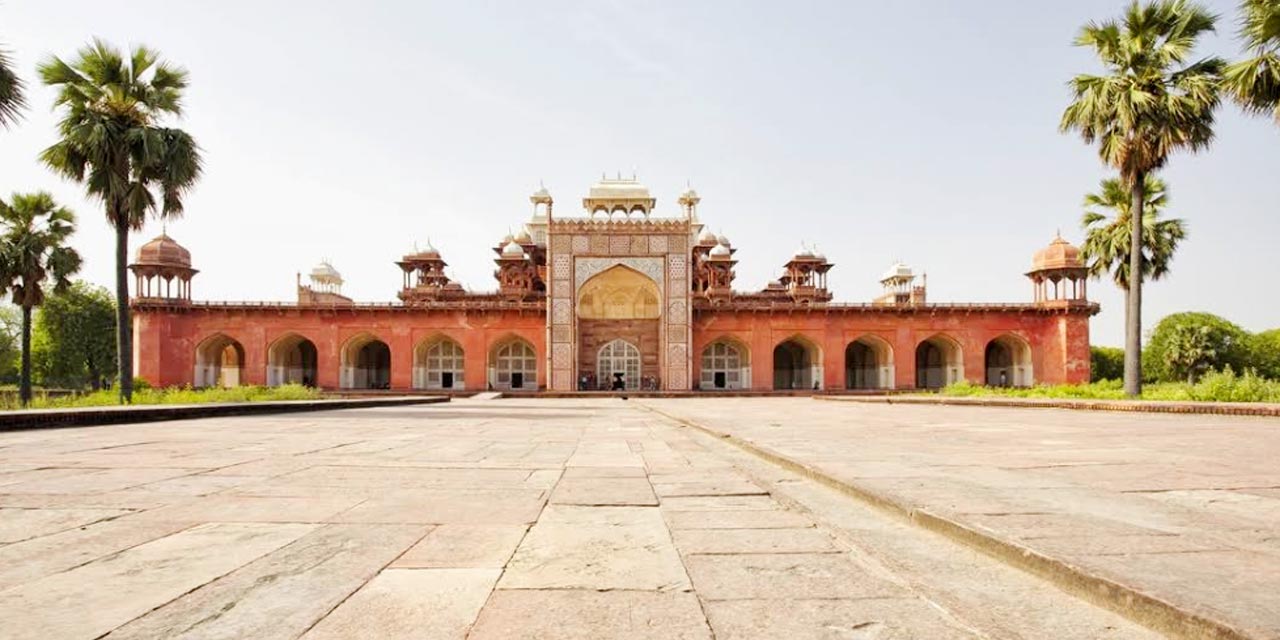 The Tomb of Akbar is a magnificent mausoleum dedicated to Emperor Akbar, one of the greatest Mughal rulers. A grand structure, the tomb showcases a unique blend of architectural styles, including Islamic and Hindu influences. The tomb's impressive red sandstone façade and intricate marble inlays mesmerize visitors.
Inside, the spacious chamber houses the cenotaph of Emperor Akbar. You can relax in the beautifully landscaped gardens surrounding the tomb, creating a tranquil ambiance. The Tomb of Akbar stands as a testament to the artistic brilliance and historical legacy of the Mughal Empire, making it a must-visit destination in Agra for history enthusiasts.
Chini Ka Rauza showcases a unique Persian architectural style. Built as a tomb for Allama Afzal Khan Mullah, the prime minister of Emperor Shah Jahan, it stands out for its exquisite glazed tilework (Chini) on the facade.
The intricate floral motifs, calligraphy, and colorful ceramic tiles create a stunning visual spectacle. Inside, the tomb houses beautifully carved marble screens and inscriptions. Chini Ka Rauza offers tourists a peaceful and offbeat attraction to explore, showcasing the artistic finesse and cultural amalgamation of the Mughal era.