Immerse yourself in the spiritual aura and divine elegance of Vrindavan with our thoughtfully crafted Vrindavan tour packages. We bring you an all-inclusive itinerary that strikes the perfect balance between serene devotion and enchanting sightseeing.
Our Vrindavan packages, intricately designed considering your safety, comfort, and enchantment, offer the warmth of Vrindavan's rich cultural immersion. Be it the tranquil echoes of temple bells, the mesmerizing dance of peacocks, or the mystical tales of divine love narrated by our seasoned Driver Cum Tour Guide, we ensure you experience every bit of Vrindavan's heavenly charm.
As you embark on this journey, you are presented with a range of offerings tailored to your tastes. Our packages encompass the prime tourist attractions while also including an array of optional attractions for those eager to delve deeper into Vrindavan's captivating allure.
Flexible customization options cater to varying trip durations, accommodation preferences, and meal plans, enabling you to design a package that aligns with your vision of the perfect spiritual sojourn. And, as the journey unfolds, enjoy hassle-free transfer services and the luxury of a private car, ensuring an unparalleled experience with our all-inclusive Vrindavan tour packages. Embrace the soulful allure of Vrindavan and let us guide you on this unforgettable journey.
About Vrindavan
The twin city of Mathura, Vrindavan is a small town in Uttar Pradesh that is widely renowned for offering a unique and enriching experience to all those who seek a deeper understanding of Hindu spirituality and devotion. Learn more about Mathura Vrindavan Tour Packages.
It is a sacred place associated with the divine love of Lord Krishna and his beloved Radha. The town is believed to be the playground of Krishna where he spent his childhood engaging in various pastimes and divine leelas (playful activities).
As such, Vrindavan is imbued with a sense of devotion and devotion is in the air. You can enjoy a getaway with our Vrindavan tour packages to capture its real essence.
The best thing about visiting this holy city is its vibrant atmosphere. The town resonates with the melodious chants of bhajans and kirtans that can be heard throughout the day. Participating in these devotional activities can be a transformative experience, immersing visitors in the spirit of devotion and awakening their spiritual consciousness.
Another captivating aspect of Vrindavan is its association with seva (selfless service). Many organizations and individuals are dedicated to serving the needs of the local community and pilgrims. From providing free meals to the underprivileged to running schools and hospitals to offering assistance to elderly and destitute individuals, seva plays a crucial role in the fabric of Vrindavan.
The streets of Vrindavan are adorned with colorful flower markets and shops selling devotional items, mementos, and traditional clothing. Exploring these markets allows visitors to soak in the local culture and witness the daily life and practices of the residents.
In Vrindavan, time seems to stand still as visitors get absorbed in the atmosphere of devotion and transcendental love. The town offers a respite from the hustle and bustle of modern life, providing a serene environment for introspection and self-discovery.
Below we have mentioned the top sightseeing places in Vrindavan. Explore them as you get the time and see what impact these tourist attractions will have on you.
Let the enchanting deity of Lord Krishna at Banke Bihari Mandir awe-inspire you. Our Vrindavan tour packages guarantee a memorable visit to this spiritual landmark. Don't wait, let your spiritual journey begin today.
The Banke Bihari Mandir is the first tourist attraction that needs to be explored by everyone who visits Vrindavan, be it for a short or long duration.
Dedicated to Lord Krishna who is affectionately known as Banke Bihari, the name "Banke Bihari" translates to "the one who charms and attracts the soul." It is said that the presiding deity of this pilgrimage site looks unique and distinct in its own way, depicting him in a standing posture with his left leg crossed over his right leg, and his arms positioned playfully and engagingly.
The architecture of the Banke Bihari Mandir is traditional and reflects the North Indian style of temple construction. It has a spacious complex with beautifully carved entrance gates and intricate artwork adorning the walls.
Inside the temple, the sanctum sanctorum is adorned with elaborate silver and gold decorations, giving it a resplendent appearance. You get to relax in an ambiance that is filled with devotion, spirituality, and a sense of divine energy.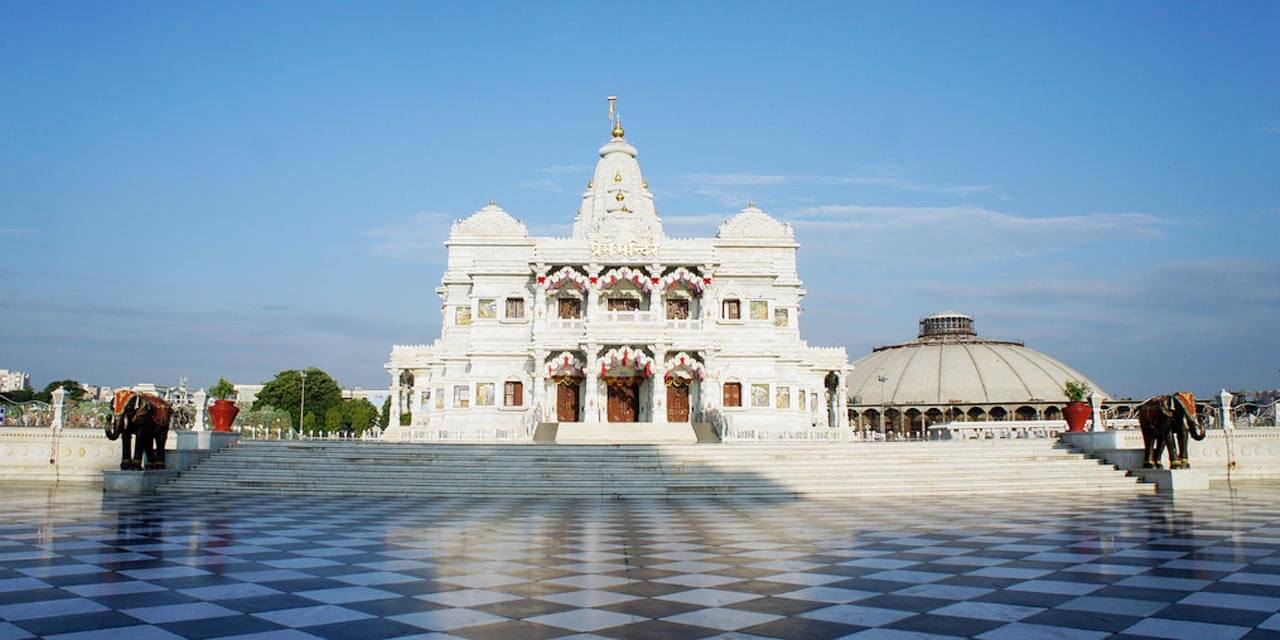 Visit Prem Mandir for an uplifting and soul-stirring experience. It is a renowned Hindu temple that was initiated by Jagadguru Shri Kripalu Ji Maharaj, a highly revered spiritual leader and devotee of Radha Krishna. The temple complex, spanning over a vast area, was completed in the year 2012.
Featuring exceptional architecture, the Prem Mandir is a magnificent blend of traditional Indian temple architecture and modern techniques. It is constructed primarily using pure white Italian marble, which adds to its grandeur and beauty. The intricate carvings and detailed craftsmanship on the walls depict various episodes from the lives of Lord Krishna and Radha.
One of the core messages of Prem Mandir is the essence of divine love, as exemplified by the eternal love of Radha Krishna. The temple encourages devotees to cultivate love, compassion, and selfless devotion towards the Supreme. It emphasizes the importance of inner transformation and leading a life filled with love, humility, and service.
Discover the grandeur of divine love at the magnificent Prem Mandir with our all-inclusive Vrindavan tour packages. Book now and dive into the captivating architectural beauty and spiritual vibes that will touch your heart.
Named after its presiding deity, the Radha Raman Temple traces its history back to the 16th century when it was established by the renowned saint and Vaishnava Acharya, Shri Gopal Bhatta Goswami. It holds immense significance for devotees of Lord Krishna and is dedicated to the divine love between Radha and Krishna.
The Radha Raman Temple holds a special place in the hearts of devotees and is considered one of the most important pilgrimage sites in Vrindavan. It attracts a large number of visitors, especially during festivals like Janmashtami (Krishna's birth anniversary), Holi (the festival of colors associated with Krishna), and Radhashtami (Radha's appearance day). These occasions witness elaborate celebrations, devotional music, and various cultural performances within the temple premises.
Visiting the Radha Raman Temple offers devotees an opportunity to connect with the divine love of Radha and Krishna. It is believed that by seeking the blessings of Radha Raman, one can experience spiritual transformation and develop a deeper understanding of divine love and devotion. The temple serves as a sacred space for devotees to express their devotion, offer their prayers, and seek the eternal grace of Lord Krishna and his beloved Radha.
Let the celestial beauty of the Radha Raman Temple mesmerize you. Experience the divine romance of Radha-Krishna with our 1 to 7 days Vrindavan packages. Start your spiritual journey now and let your heart sing with joy.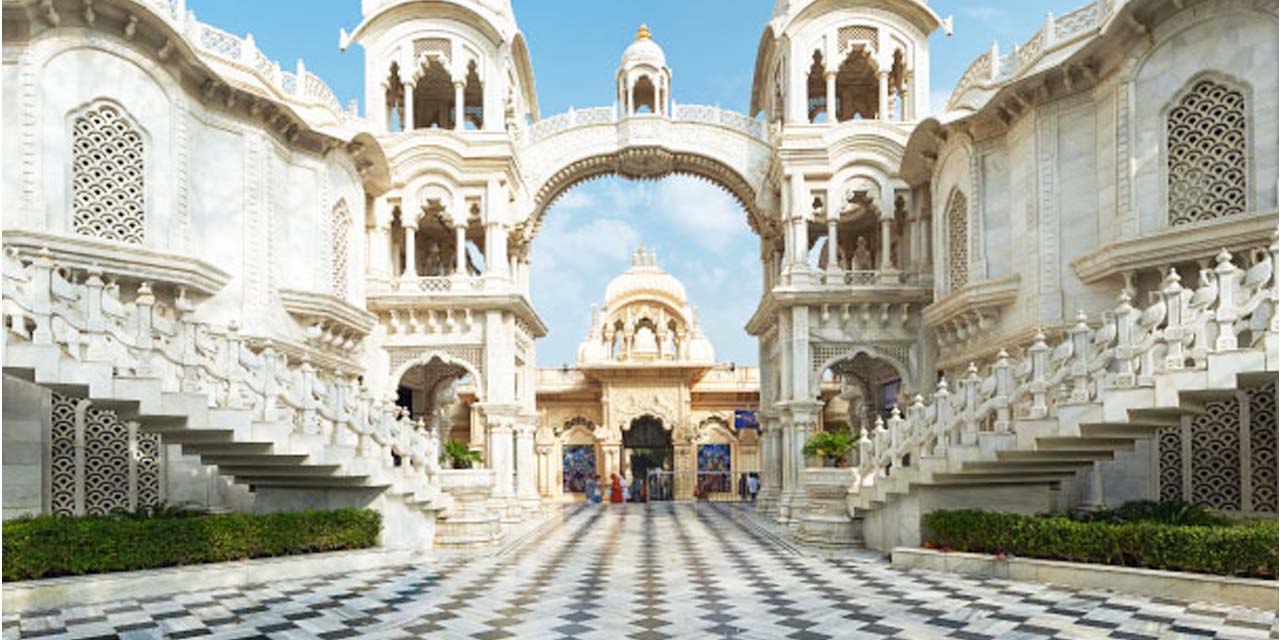 Also referred to as the Sri Krishna Balaram Mandir, the ISKCON Temple is an iconic landmark that serves as an important spiritual and cultural center for devotees of Lord Krishna. It was inaugurated in 1975 and has since become a significant pilgrimage site for the followers of the Hare Krishna movement.
The ISKCON Temple is known for its vibrant devotional activities and services. The devotees follow a disciplined spiritual routine that includes morning and evening aartis (ritualistic worship), kirtans (devotional singing), and bhajans (religious songs) in praise of Lord Krishna. These devotional practices create an atmosphere charged with spirituality and devotion.
It provides a peaceful and sacred environment for prayer, meditation, and introspection. The temple's serene atmosphere, devotional practices, and rich cultural offerings make it a must-visit destination for those seeking spiritual solace and a glimpse into the devotional traditions of Vaishnavism.
Immerse yourself in the divine ambiance of the ISKCON Temple. Our Vrindavan tour packages ensure an enchanting experience as you absorb the spiritual essence. Reserve your multi day tour package  now and be a part of the harmonious hymns that echo through the temple.
---
Once you're done exploring the aforementioned places with our Vrindavan tour package, you can plan to add a few more points of interest to your itinerary list to make the most of your time there. Some of the tourist attractions that are worth your time are Nidhivan, Govind Devji Temple, Sri Rangji Mandir, Shahji Temple, Gopeshwar Mahadev Temple, and Chamunda Devi Temple.
Plan a guided tour to Vrindavan with us to explore the best of this holy city. We at Mathura Vrindavan Tourism, a division of Holidays DNA, offer all-inclusive Vrindavan tour packages to our diverse clientele so that you can enjoy your time without worrying about anything.
Our all-inclusive packages can also be customized to suit your varied holiday needs. You can also avail of the discount coupons available with us to have a great time in Vrindavan at reasonable prices. Please fill out the Contact Us form to get in touch with our team.
How to Reach Vrindavan?
Due to its great connectivity to Mathura which maintains a fantastic network with the rest of the country via all modes of transportation, it can be accessed by domestic as well as international travelers the way they want.
The most convenient way to be there in Vrindavan is by road. You can either catch a bus to Mathura or choose to self-drive to cover the required distance by your car. For your ease, the UPSRTC department runs various state-owned buses from the major cities of the country on an everyday basis. Once you're there in Mathura, you can look for a private cab from the list of top car rental companies in Vrindavan to commute further to your desired location.
Another option is to experience a smooth and comfortable railway journey to Mathura Railway Station. Outside the station, one can easily find local transport that helps you cover the required distance from Mathura to Vrindavan, which is approximately 16 km away.
Please note that Vrindavan doesn't have an airport. So, all those who prefer traveling by air can board a flight to Indira Gandhi International Airport in Delhi to cover the maximum distance with ease. After deboarding your flight, you can find a bus, a train, or a taxi to go ahead to Mathura or Vrindavan.