The cities of Agra, Mathura, and Vrindavan are some of the most popular tourist attractions in northern India. These cities offer an incredible mix of cultural and spiritual attractions. Our Lucknow to Agra Mathura Vrindavan Tour Packages will take you on a journey through these cities, allowing you to explore their stunning monuments, temples, and ancient sites.
We at "Holidays DNA" at www.mathuravrindavantourism.co.in offer Lucknow to Agra Mathura Vrindavan Tour Packages that include sightseeing at affordable rates. The three cities offer a unique blend of culture and history, from religious temples to historical monuments.
Lucknow to Agra Mathura Vrindavan Tour Packages provide a complete travel experience. Our tour packages include transportation from Lucknow to Agra, Mathura, and Vrindavan and accommodation in hotels based on your budget.
Popular Sightseeing Places in Vrindavan that can be visited with this package
Nidhivan is a sacred forest known for Radha and Krishna's Ras Leela. It is believed that they still perform at dusk after the world retires, and you cannot stay at Nidhivan after sunset. The Tulsi plants and small trees are considered to be the devotees of Krishna.
Inside the premises, you can visit Rang Mahal, Bansichor Radha Temple, and a shrine dedicated to Swami Haridas. You can see makeup items and ornaments near the bed in Rang Mahal, which are believed to be used by Lord Krishna and Radha during their Ras Leela.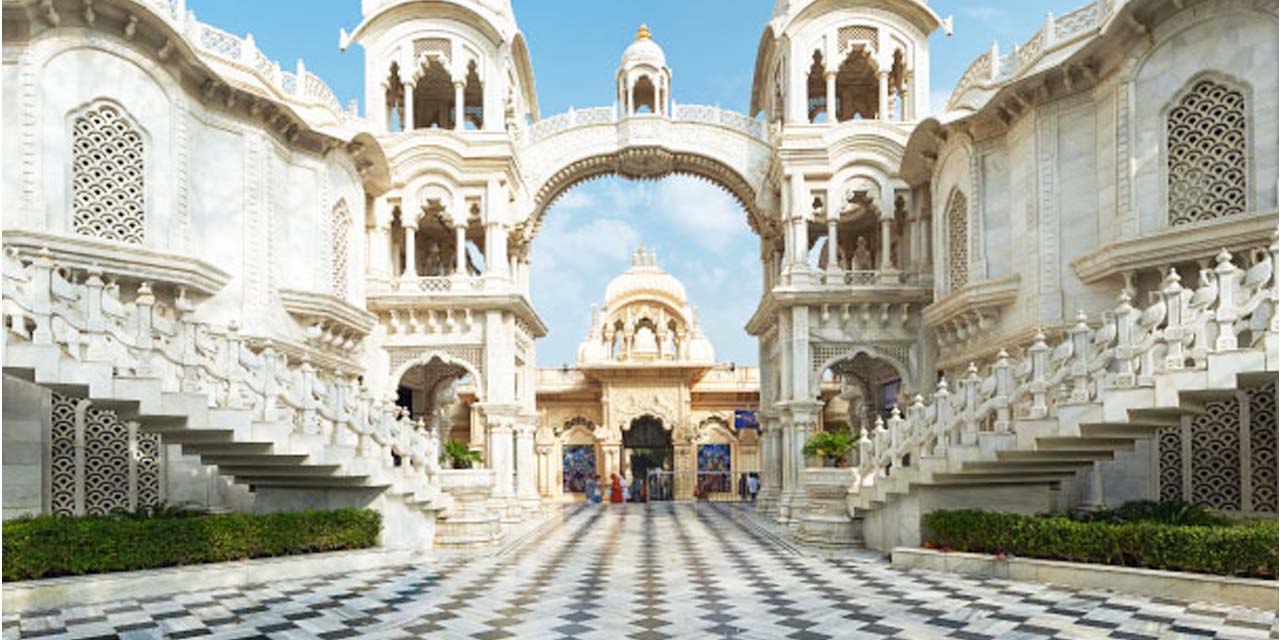 ISKCON Temple is a Gaudiya Vaishnava shrine, also called Sri Krishna Balaram Mandir. It is built at the very place where the two brothers, Krishna and Balram, spent their childhood. You can also view the idols of Radha Krishna and Gauranga Nityananda on two altars.
At the entrance of the complex lies the white marble samadhi mandir of Swami Prabhupada, the founder of ISKCON. The expansive and ornately decorated complex also includes a bakery, a museum, a restaurant, a guest house, and an ashram. You will be awed by the winding staircase and intricately carved arches, domes, and archways.
Banke Bihari Temple is a Vaishnavite Hindu shrine where Lord Krishna is seen standing in the Tribhanga pose. You can admire the Rajasthani architectural style of the temple. The rituals here do not include Mangala aarti and the sounding of bells and conches, as they are considered a disturbance to the Lord.
You can visit the temple on Akshaya Tritiya to get a glimpse of the deity's lotus feet. During Jhulan Yatra, you can behold silver-ornamented swings on which the idol of the Lord is placed and worshipped.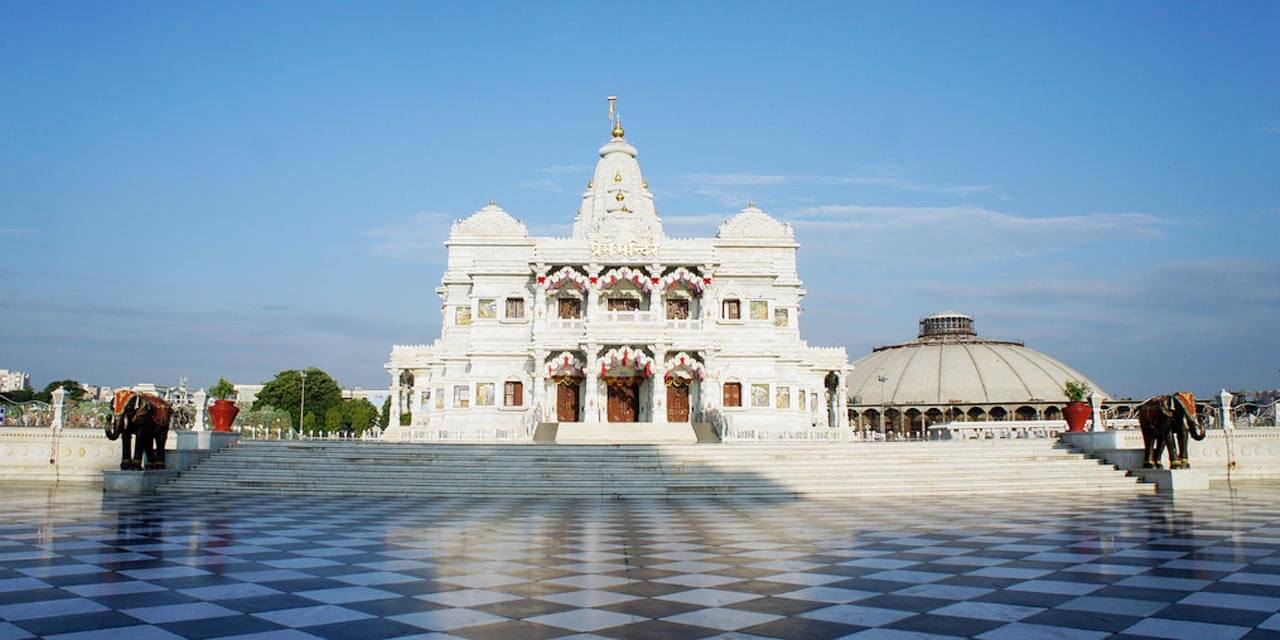 Preaching eternal love, Prem Mandir is a popular Hindu shrine with the presiding deities of Ram-Sita and Radha-Krishna. You can admire the ancient Indian sculptures in the temple. Carved out of white Italian Carrara marble, the temple is 125 ft in height.
Between the well-maintained gardens, you can notice the beautiful fountains, Jhulan Leela, tableaux of Radha-Krishna, Kalia Nag Daman Leela, and Govardhan Leela. At the entrance, there are carved masts of 8 peacocks. Inside the Garba Griha, songs on the Lord are inscribed in simple language on marble rocks.
One of the seven most revered ancient temples of Vrindavan, Radha Raman Temple is a 500-year-old heritage site. It houses the actual Shaligram deity of Krishna with a mystic smile on his face. Beside him, you can see a crown representing Radha Rani.
The complex also has the samadhi of Gopal Bhatta, the creator of the temple. This large temple is located in the riverside area and offers pristine views of the surroundings. Festivals celebrated here include Rama Navami, Chandan Yatra, Jhulan Yatra, Balaram Purnima, Kartika, Janmashtami, Radhashtami, and Gaura Purnima.
Popular Sightseeing Places in Mathura that can be visited with this package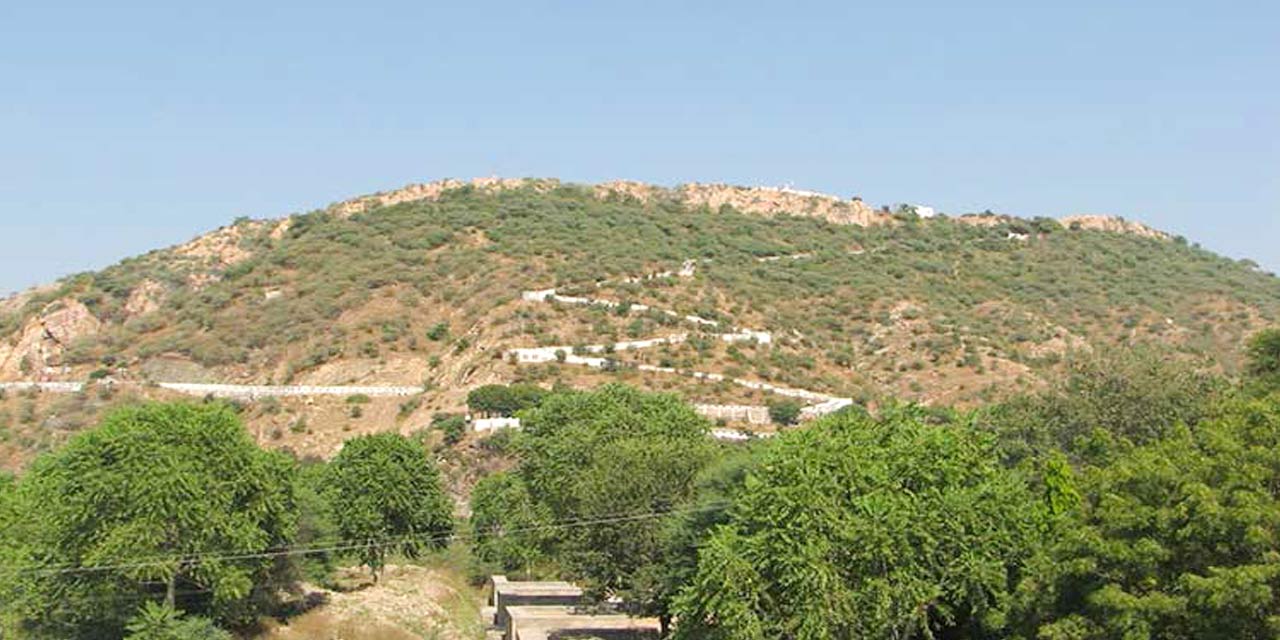 Govardhan Hill is a sandstone hill that Lord Krishna lifted on his little finger to save the village from torrential rains. Also known as Giriraj, this hill is a prominent Hindu pilgrimage site with a height of 80 ft and a 38 km circumference.
You can circumambulate the hill and offer your respect to Radha and Krishna. Some historical religious sites on the hill include Kusum Sarovar, Daan-Ghati Temple, Mukharbind Temple, and Haridev Temple. You can also visit the beautiful Mansi Ganga Lake. Festivities such as Govardhan Puja, Guru Purnima, and Diwali are celebrated with great devotion.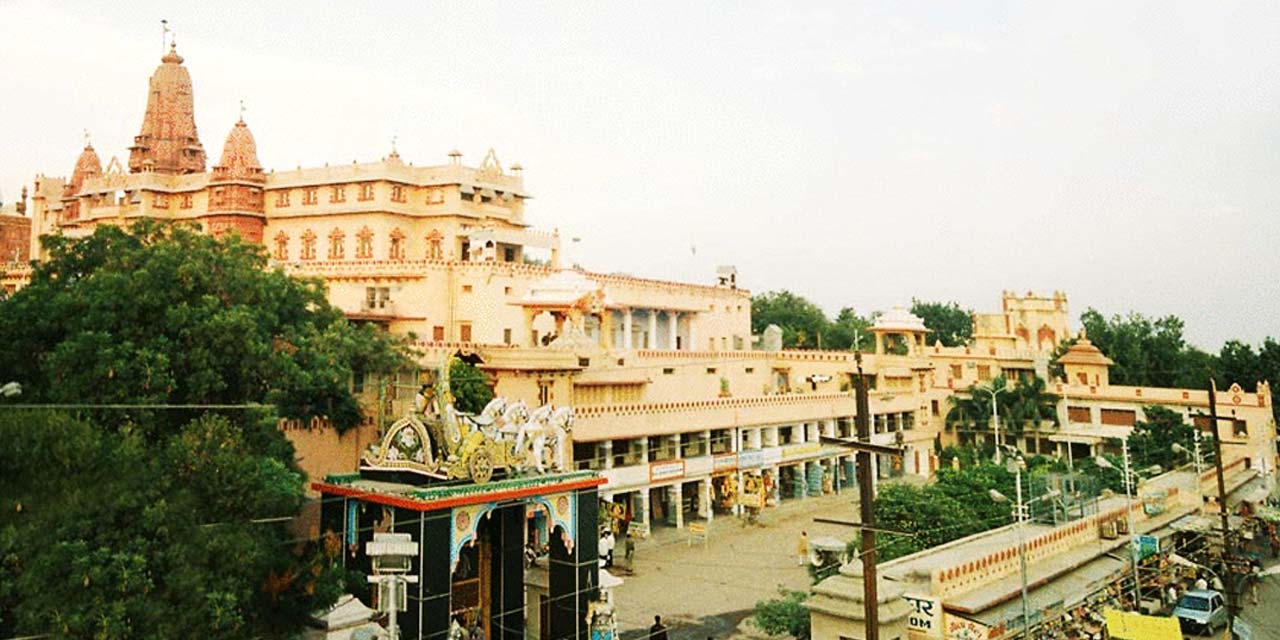 Built around the prison cell where Krishna's parents were imprisoned by Kansa, Shri Krishna Janmasthan is considered to be the birthplace of Lord Krishna. Although the temple is 500 years old, it has been reconstructed several times over the years.
You can take a tour of the place and view several deities within the main temple premises. You can also visit the Garba Griha shrine, Bhagawat Bhavan, and Keshavrao Temple. You must check out Pothra Kund, a large water tank that is believed to be the place where Lord Krishna had his first bath.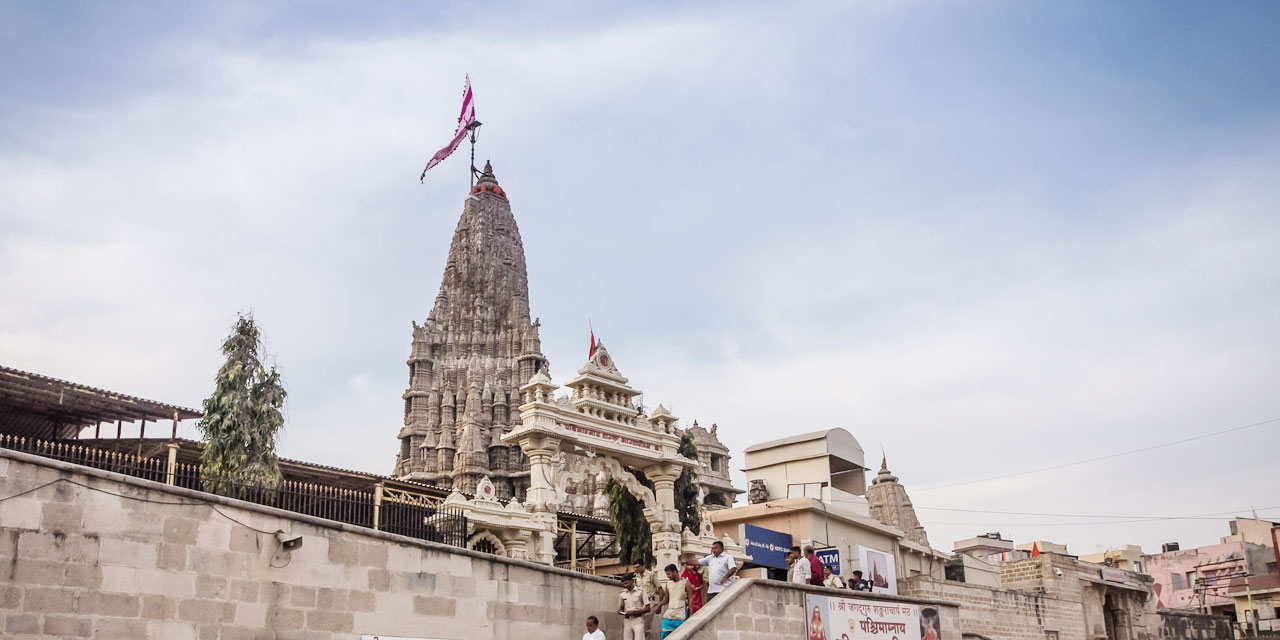 Dedicated to Lord Dwarkadhish, a form of Lord Krishna, Dwarkadhish Temple is one of the oldest and largest Hindu temples in Mathura. It is famous for its opulent architecture and exquisite paintings. Inside, you can behold the mesmerizing black marble deity of Krishna and the white marble deity of Radha Rani.
You will be awed by the Rajasthani-styled entrance with steep steps that lead you to the main temple. Jhula or Hindola festival during the Shravan month is a grand celebration in the temple. You can also witness the celebrations of other festivals like Janmasthami and Holi.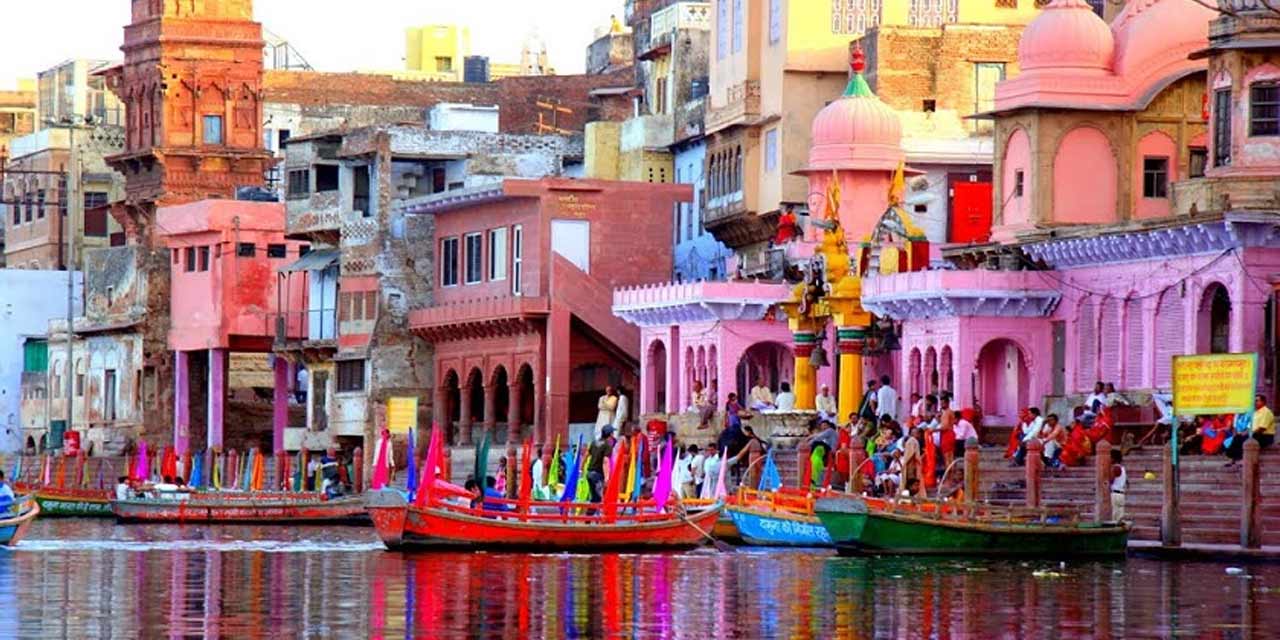 Vishram Ghat is a holy bathing ghat where Shri Krishna is believed to have rested after defeating his evil uncle, Kansa. As the traditional parikrama begins and ends here, this ghat on River Yamuna is of great religious significance.
Rituals like daily pooja and Pind Pradan are performed by devotees here. You can admire the elegant shrines dotting the ghat. In the evening, you can feast your eyes on the spectacle of floating oil lamps on the Yamuna River. You can take a boat ride and enjoy the tranquility and the pristine views.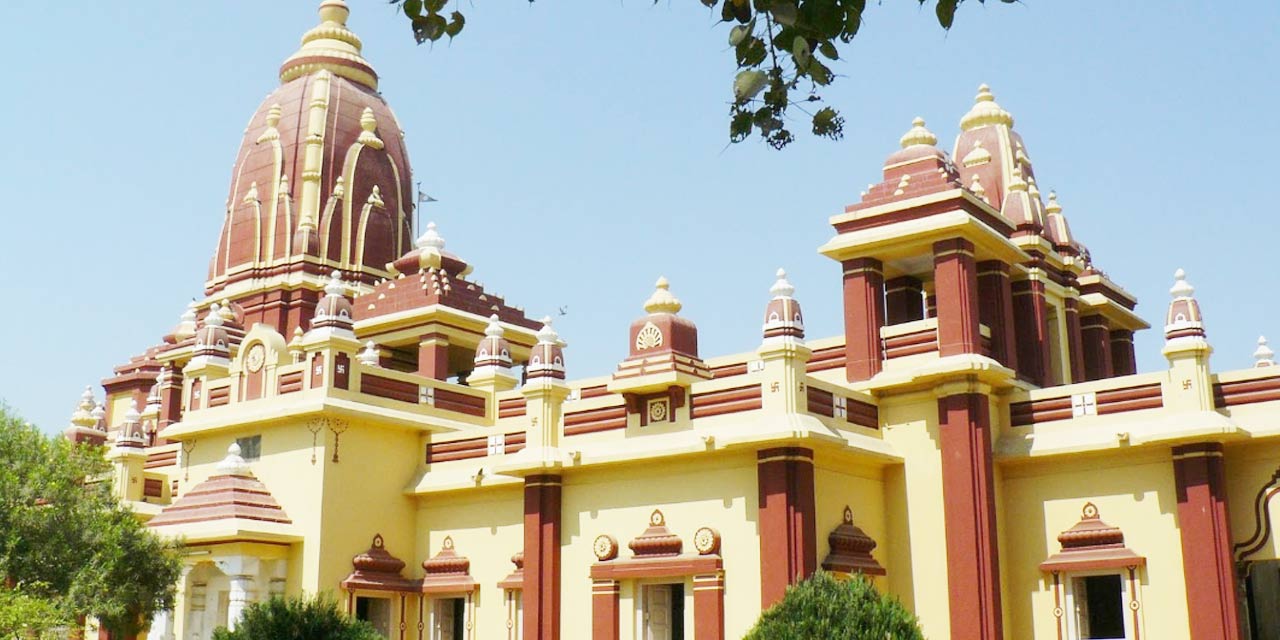 Birla Mandir is a grand Hindu temple dedicated to Lord Lakshmi Narayan, an avatar of Lord Vishnu. Also known as Gita Mandir, it is popular for the Gita Stambh, the pillar where Bhagavad Gita verses are inscribed.
You can admire the red sandstone building, which is the product of amazing craftsmanship. On its marble walls, you can observe the paintings of several deities. The beautiful chariot of Lord Krishna on the Mahabharata battlefield instantly appeals to you. There is also a small Hanuman temple and a Garuda statue within the complex.
Popular Sightseeing Places in Agra that can be visited with this package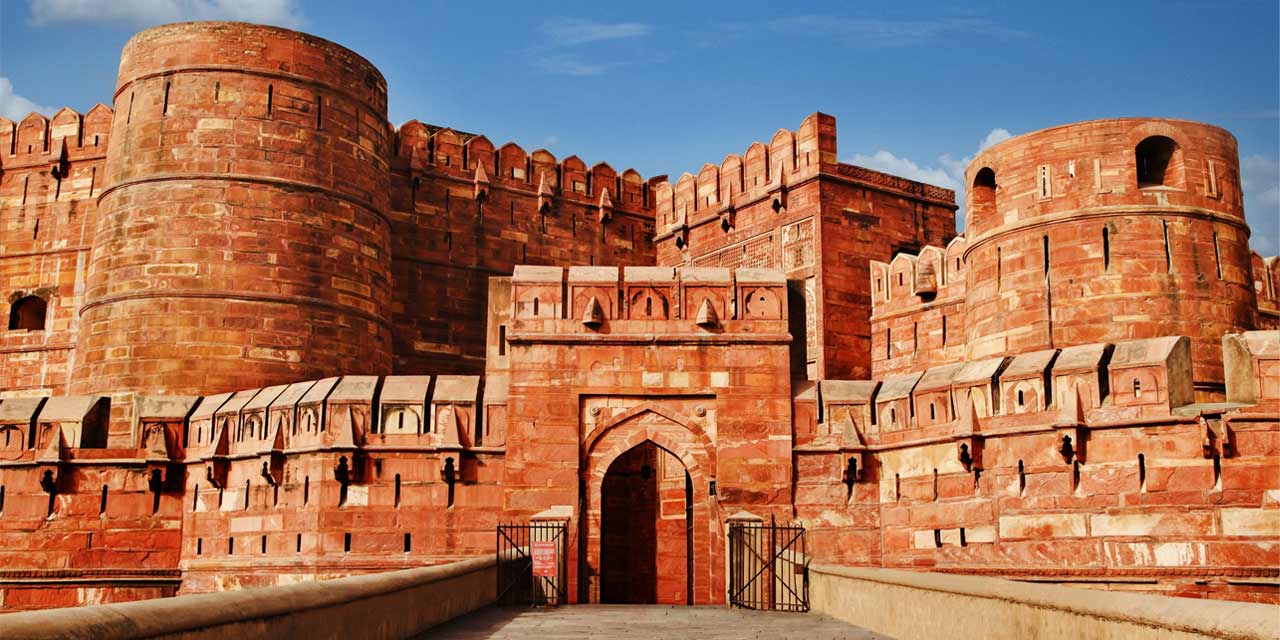 Agra Fort is an impregnable red sandstone fort that bears witness to Mughal architecture and prowess. A UNESCO World Heritage Site and a famous tourist attraction of Agra, it was built by Emperor Akbar in 1573. Also known as Red Fort or Lal Quila, this massive fort is a walled city with four entry gates.
You can visit Diwan-i-Aam, Diwan-i-Khas, Moti Masjid, Nagina Masjid, and Jahangir Mahal inside the fort. You can acquire exquisite vistas of the Taj Mahal and Yamuna River from the massive circular bastions that encircle the fort.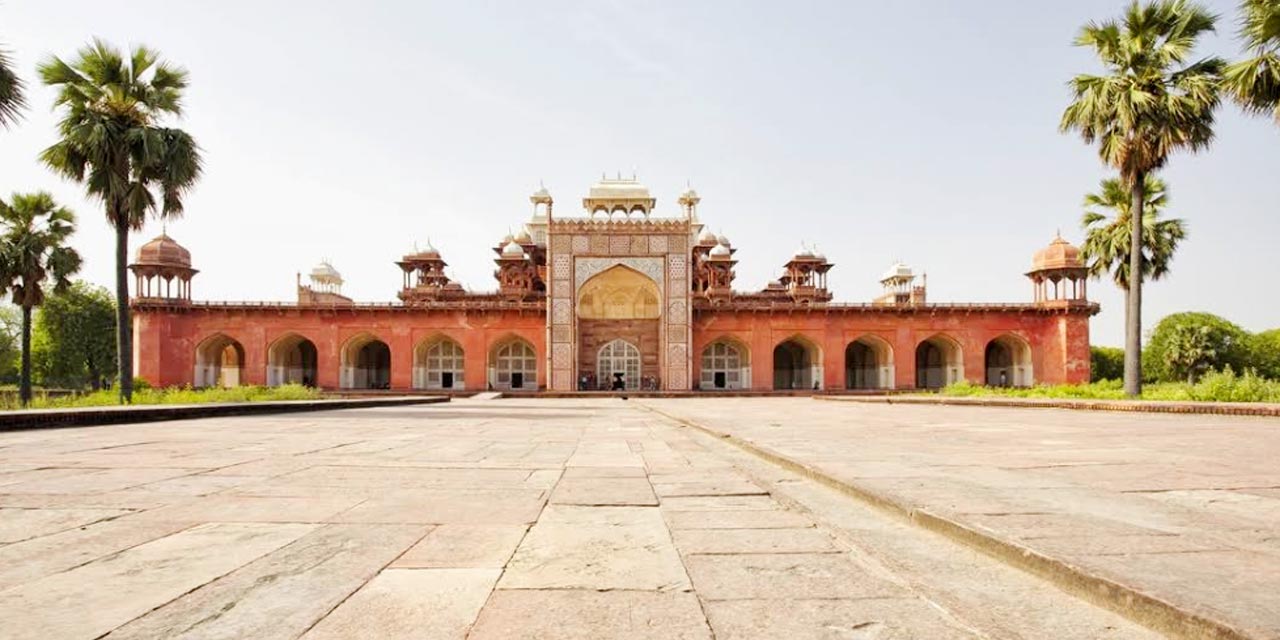 The Tomb of Akbar is the final resting place of the Mughal Emperor Akbar. Following the Tartary tradition, Akbar himself commissioned the construction of his tomb, which faces the rising sun. There is a well-maintained garden around the tomb. You can marvel at the mix of Hindu Rajputana and Gothic Mughal architectural styles.
The 4-storied pyramidal structure consists of a marble pavilion that houses the false tomb. You can see the actual tomb in the basement. You can admire the building built of deep red sandstone, with features of white marble, black slate, and decorative inlay works.
Taj Mahal is a 17th-century mausoleum famous for Shah Jahan's love for his 3rd wife, Mumtaz Mahal. Constructed on the banks of the Yamuna River, it is a UNESCO World Heritage Site. Architecture enthusiasts will admire its ivory-white marble structure with symmetrical well-appointed gardens, four towering minarets, a mosque, and a guest house.
Inlaid with semi-precious stones, the Taj Mahal displays Indo-Islamic designs and traditions. The marble edifice looks like a grand, unforgettable spectacle in the evening sun. You can hire a guide to learn about this historical mausoleum.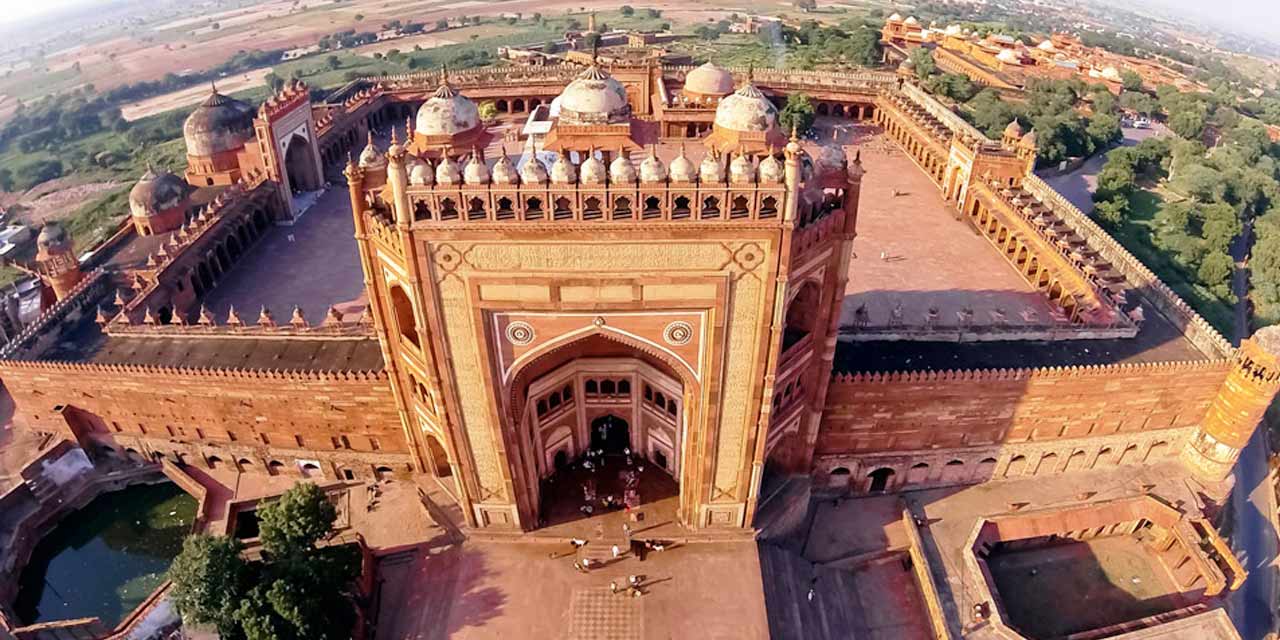 Fatehpur Sikri is a fortified city, once the Mughal Empire's capital. Built by Akbar in 1571, the city is covered with red sandstone structures. You can be mesmerized by the view of the stunning city against the setting sun.
Modeled on Timurid forms and styles, some of the key attractions in the city include the Tomb of Salim Chisti, Naubat Khana, Birbal's House, Jodha Bai's Palace, Diwani-i-aam, Hiran Minar, Diwan-i-Khas, Panch Mahal, Buland Darwaza, Jama Masjid, and Ibadat Khana.
Jama Masjid, also known as Friday Mosque, is a 17th-century mosque. One of the largest mosques built by the Mughals, it was built under Shah Jahan's rule. It is one of the city's iconic monuments constructed using white marble and red sandstone.
At its center is a fountain surrounded by a courtyard with four kiosks. You can admire the interior walls with Persian inscriptions praising Shah Jahan and his daughter. The Tomb of Salim Chisti is a part of the complex. Thousands of devotees attend Friday prayers at the revered mosque.